You may have often ordered hot chocolate from a café and wondered if it might be possible to get close to reproducing the same smooth texture at home.
As someone who does not like coffee but who does love a good hot choc drink, this subject is particularly dear to me, so I went ahead and made this new purchase with the purpose of finding out if my high expectations could be met.
Read on to find out more in this review of the Velvetiser from Hotel Chocolat.
What is the Hotel Chocolat Velvetiser?
The Hotel Chocolat Velvetiser is a hot chocolate-making unit that you can buy for use in your own kitchen at home. It makes barista-quality hot chocolate by just adding milk and the sachets, which come in a range from milky to dark. Operating it is simple, too.
As can be seen in our review video, above, this is the Matt Charcoal Velvetiser which we think looks pretty attractive, although there are other variations available.
How Does It Work?
The Velvetiser works by using a spinning frother (a powered whisk) which blends the milk and chocolate together while at the same time heating it up. In a few short steps, a cup will be made. Here's how it's done in a nutshell:
Pour the milk into the unit up to the "Max" fill line
Take a Hotel Chocolat sachet and empty it into the Velvetiser
Press the button which starts the blending process
When the light on the button goes off, your drink is ready. Pour it straight into the waiting mug
Is the Velvetiser Worth it?
While the answer to this question may depend on your perception of value, for me, having a high-quality hot chocolate drink ready in a couple of minutes is quite the godsend. And this Velvetiser is in use a LOT in my house, probably at least 3 or 4 times per week.
So, in my case, it is an overwhelming 'yes'. If you are just an occasional drinker of the hot choc, then perhaps it's not going to tick your value box as much. Some people might balk at the price of the product, and prefer to try using cheaper options which is perfectly understandable.
What You Get
When you buy the Velvetiser, the following items are included:
The Velevetiser unit
10-pack variety box of sachets
2 ceramic mugs (no handle, though! Keeps the hands warm)
Where to Buy the Velvetiser
The Hotel Chocolat Velvetiser can be purchased via Hotel Chocolat themselves (online, also with free delivery). You might also be able to purchase one by going into one of their stores, but probably best to check that it's in stock first if going in person.
I, for one, prefer the ease of the home delivery route (online) rather than having to make a trip to the shops. It also had the same cost, which seems to be the identical recommended retail price of that sold everywhere else.
Velvetiser Sachets
The Velvetiser sachets can be purchased online from the website (see links to each flavour below). I started out by using the taster selection kit which is a selection of ten different flavours. This comes included with the initial purchase.
It is a good idea (the selection pack) as it allows you to find out which flavours you – and also potentially other members of your household – like the best.
You can also order refill sachets from the taster selection box online. However, once you're set on which flavour or, more likely, flavours you're the keenest on, you will probably just re-stock with them periodically.
Hot chocolate to try
If you've tried out the selection box, you will soon find out which ones you like the best. Here are some of the sachets available for re-ordering from the Hotel Chocolat website (I've found that Amazon is too unreliable, hardly ever has stock) so you can look at prices and availability.
50% Milky from Hotel Chocolat
Salted Caramel from Hotel Chocolat
70% Dark from Hotel Chocolat
100% Dark Honduras from Hotel Chocolat
Hazelnut from Hotel Chocolat
Read on below to see alternatives to using these sachets – why restrict yourself to these flavours?
The taste test
This, of course, all comes down to the individual. However, I am one who is not so much into the bitter taste of hot chocolate drinks.
So, from the selection box that arrived with the Velvetiser pack, the one that I preferred the most is the 50% Milky. This does have a slightly bitter taste to it as well, but really not much compared with the others.
Salted Caramel (pictured below) is another sweet one and there is no bitterness present here. This could be ordered from Amazon but the minimum order size was 2 (annoyingly).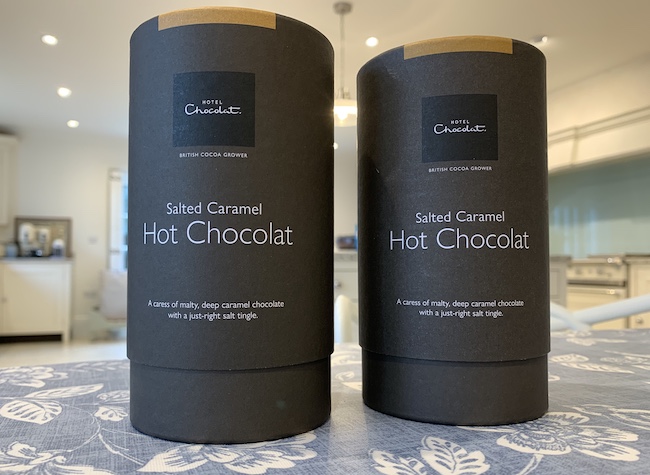 Hazelnut is another interesting flavour and it's also one that I'd order again. Definitely on the sweeter side of the spectrum.
As for the darker hot chocolate flavours, being those that contain 70% or 100% dark chocolate, I found these just too bitter and cocoa-ish for my liking. Again, just an opinion.
You shouldn't really have to restrict yourself to what Hotel Chocolat produces, though. That leads on nicely to possible alternatives to what's available in their range. After all, you're free to try other mixes and combinations in your Velvetiser.
Velvetiser vs Dualit Milk Frother
The Hotel Chocolat Velvetiser is actually manufactured by Dualit in conjunction with Hotel Chocolat. Dualit also makes its own Milk Frother.
While the Dualit Milk Frother is great at frothing milk, there are some similarities between the two but these are two different beasts.
The Milk Frother has a smaller capacity than the Velvetiser, and has been designed as an addition for Duality coffee machines.
The Dualit Milk Frother is not designed to add chocolate directly in with the milk, so would require you to separately stir in the chocolate flakes.
Also, on the Milk Frother, there is no lip which is irritating because when you pour it out, it can go everywhere. The Velvetiser has a crease in the rim which allows for pouring accuracy.
You could try out the Milk Frother as an alternative and see how it goes. But if these two were virtually the same, you could wonder why Dualit would specifically make one for hot chocolate.
The main point, however, is that the Velvetiser makes a superior-tasting cup of hot chocolate and all in one single action & button push.
Cheaper alternatives to using sachets
When you consider the cost of the Hotel Chocolat Velvetiser sachets, it works out at £1.20 per cup which isn't too bad but could be a little more cost-effective.
There is certainly something about using their chocolate flakes that seems to make it work well, though (as opposed to powdered chocolate options).
One really good alternative that I can recommend is to use Milo. Invented in Australia in 1934, Milo has got a sweet, chocolatey/malty taste to it.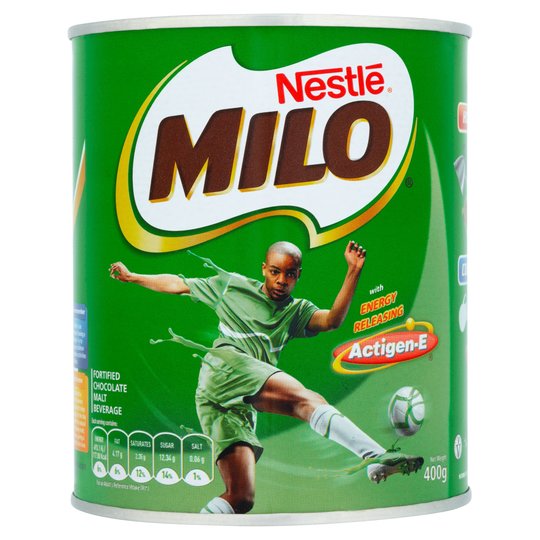 If you've had it before, you will also know that the Milo flakes/granules (it's not quite as fine as powder) sometimes don't break up/dissolve that well and a portion of it floats to the top of the mug.
Well, in the Velvetiser, Milo blends completely (no granule/flake residue) and it tastes really nice – very similar to the Hotel Chocolat salted caramel flavour – and is velvety smooth. I just added 4 heaped teaspoons of Milo.
And, what with a tin of Milo being cheap as chips compared to the cost of the official sachets, it's my top recommendation to try. Milo is also great as a cold milk drink, too, by the way, stirred in.
Even better still, Milo contains nutrients such as calcium and iron, as you can see here: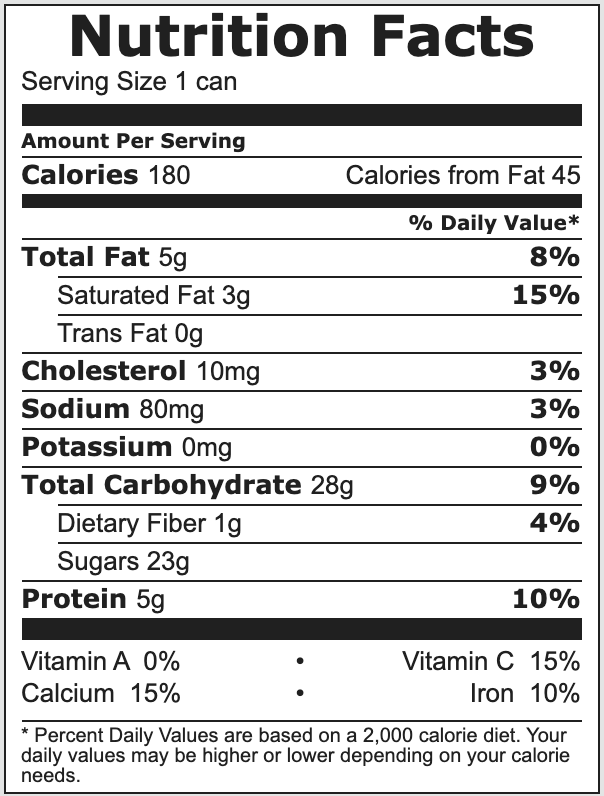 Alternatives requiring more effort
I had heard of (and seen) some Velvetiser owners experimenting with using other ingredients in their machines. Please do keep in mind that this kind of thing is done at your own risk. One such person is Ben Hopkins who you can watch trying experiments with crushed-up chocolate bars in the video below. It's about 10 minutes long.
To get to the main conclusions from the video, Ben tries blending in crushed Mars Bar, Cadbury's Flake, Caramac and (others) with varying success. If you would just like to quickly make a hot chocolate, however, these options are going to be fairly time-consuming.
Not only that, because the cost of chocolate bars is not going to help you much in terms of making your drinks cheaper. It also involves quite a bit of additional mess which you aren't likely to want to deal with every time you fancy a cuppa.
What seems to be a very good option, though, is the large bags of the Callebaut chocolate buttons (or 'callets'). These appear to be the right kind of consistency so that they can be used straight out of the pack into the Velvetiser – and they have the ideal low melting point, too.
Using a 35 gram serving of this works out at a cost of 34.8p per cup based on the current price at the time of writing. That's 29% of the cost of the Hotel Chocolat sachet equivalent, or put another way: 10 cups for £3.48 as opposed to £12. Alternatively, it's 3.45 times more bang for your buck.
It seems a no-brainer to at least try this! So we did – read on.
It's worth mentioning that I have found that the Hotel Chocolat sachets can often be out of stock at Amazon, but if you want to order the milk chocolate Callebaut from them it's not usually an issue. However, you can get the Hotel Chocolat sachets no problem from their website (as per above under "Hot Chocolate to try").
Getting back to the Callebaut alternative, they also have a really good range of flavours. In addition to standard milk chocolate callets, they also make bags of white chocolate, a luxurious Belgian Caramel chocolate and 70.5% Belgian Dark chocolate.
Tip: Do this before adding chocolate
We decided to put this to the test ourselves after receiving delivery of a 1kg bag of Callebaut Finest Belgian Chocolate and adding it to the Velvetiser. The results were interesting.
After carefully measuring 35g of chocolate, into the unit it was poured with the milk already in. The first cup was a success and it blended just as it would with the Hotel Chocolat sachets.
However, after deciding to stress-test the machine a bit by making another one, about halfway through a motor straining sound started being made by the Velvetiser. Uh oh, maybe this was not such a good idea.
The size of the chocolate buttons must have been too much for it, so I immediately turned it off in order to prevent any potential damage.
Then it was time to come up with a better solution rather than try again. That, of course, was to make the chocolate more like the flaky texture of what comes in the sachets from Hotel Chocolat. As I was looking for the quickest way to do this, out came the trusty blender.
Blending up the chocolate
Using a standard blender, in went the chocolate buttons. For the first blend, I added quite a bit and soon the error of my ways dawned on me.
When attempting to blend too much of it, the blender needed to run for quite a time and the friction of the spinning blades began to make them warm, so the chocolate started to melt. See the video below about how this experiment went:
So, shorter bursts were in order and that meant smaller amounts of chocolate per blend. Also, I decided to cool the chocolate callets down by putting them in the fridge beforehand.
It worked pretty well in terms of preventing the subsequent blending sessions from getting melted in the hot blades too quickly.
Within about 15 minutes, the entire 1-kilogram bag had been chopped up pretty finely so that it resembled the texture that was needed (which is a bit like a smashed-up Cadbury's Flake).
I then decanted the post-blender chocolate back into the original Callebaut bag, given that the bag is designed to contain it, and it also has a really good quality sealer – which is like some form of plastic velcro.
Now that was done, the next 30 or so hot chocolates (yes!) made by the Velvetiser were set at a fraction of the cost and with no worries about it ruining the machine itself.
Calories in a Hotel Chocolat Velvetiser
Drinking chocolate and milk is, of course, not the best for weight loss. So, you may be wondering just how many calories you'll be consuming when you down one of these.
The Hotel Chocolat sachets that the shop sells for the Velvetiser come in different flavours, and so each one is slightly variable in terms of energy. I was surprised to find that the darker chocolate sachets sometimes had about the same calories as the milk chocolate ones.
In general, the calories per cup will depend on which milk you use but you are looking at anything between 287 and 307 calories per cup when using semi-skimmed milk. Many of us actually prefer the more milky chocolate drinks and a breakdown of each type is shown in the table below: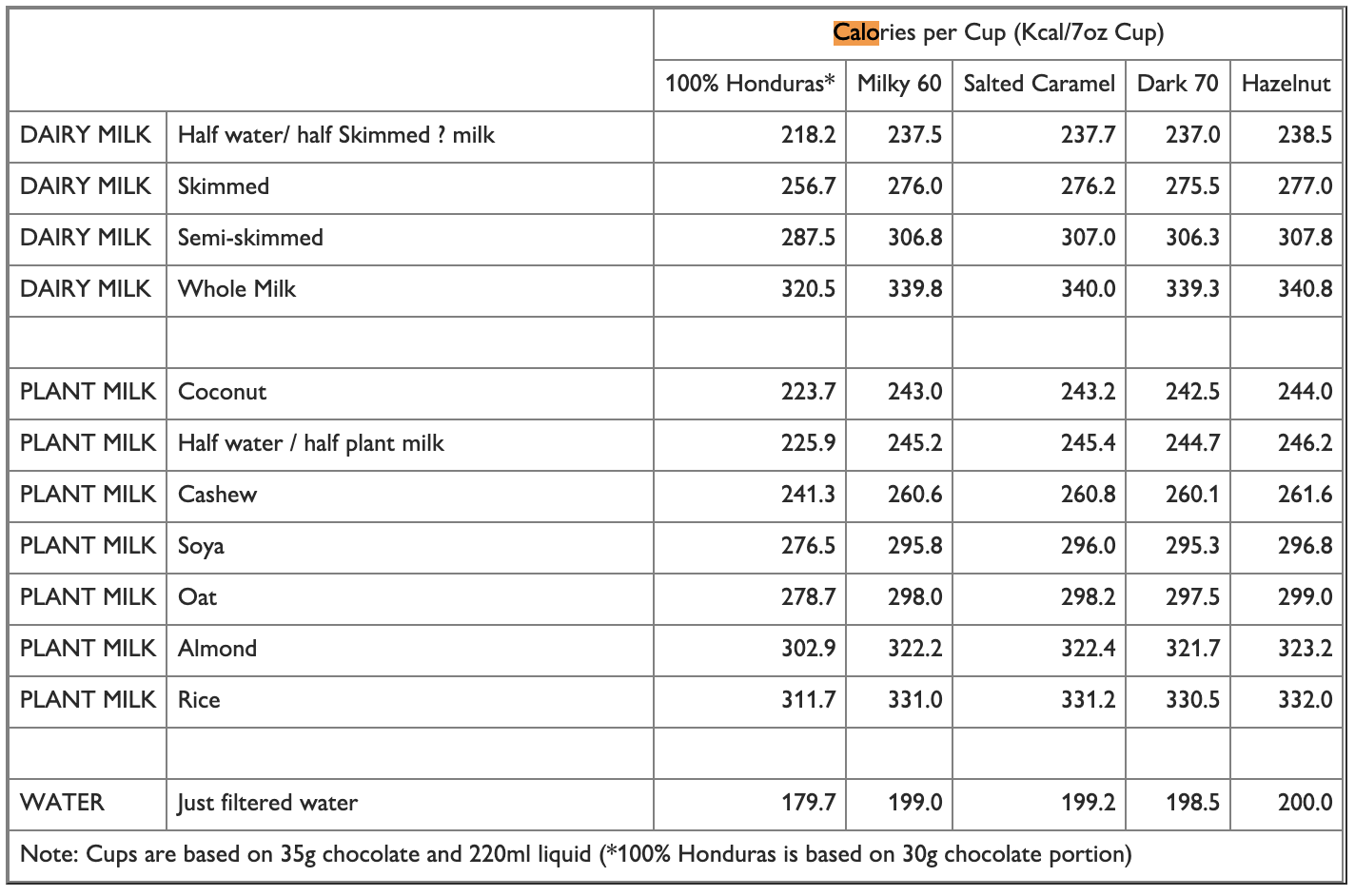 Note (on the bottom line in the image, above) that if you choose to use water instead of milk, it will reduce the calorific intake pretty significantly.
I must admit that I wouldn't consider using it with water as I really enjoy the fuller taste that is produced by blending the chocolate flakes with milk.
After all, who wants to compromise on a barista-grade hot chocolate?
Frequently Asked Questions
❓ Velvetiser vs Milk Frother?
In simple terms, the Velvetiser is not a milk frother. It's rather more like a whisk or milk beater. While these may be similar, it's not quite the same thing. The Velvetiser also heats the drink to a good drinking temperature at the same time.
❓ How easy is it to clean?
The main unit is not able to go into the dishwasher but one tip that will help is to put in tap water to the fill line, add a drop of dishwashing liquid and then run the Velvetiser again. This will get it mostly clean.

Then, just rinse it out (thankfully, it has a non-stick coating) or use a cloth to wipe the chamber clean. Check the whisk to ensure that it is also clean – I usually just rinse it under the tap. The whisk part can be put in the dishwasher if you wish.
❓ What Flavours are Available?
The drinks that are made after two and a half minutes in the machine are smooth and high quality, just as you would get in a good café shop. Velvety, even. Some of the available flavours:

– 50% Milky
– Salted Caramel
– 70% Dark
– 100% Dark Honduras
– Hazelnut
❓ Where can I buy the Velvetiser?
From Hotel Chocolat.
The Velvetiser is available in either copper, white or matt charcoal.