Restaurant location: 27-29 George Street, Oxford OX1 2AU
It was 2 pm on a Wednesday afternoon in Oxford and the Busaba Thai restaurant was virtually empty. Is that a good or not-so-good sign, I wondered.
That said, it was past the standard lunchtime rush, so the benefit of the doubt could be given on that count. So, on with this review of Busaba Oxford.
We got a table (free choice) and decided to order some drinks, one of which was an Asahi beer (requested by my colleague). What came was a Singha beer. OK…
Not wanting to make a fuss, I decided to have the wrong beer (even though I only really wanted water) as they had already opened it by then and we ordered the Asahi again. This time, I told the waiter, "An Ah-Sa-Hee beer from Japan" very clearly.
A minute later he appeared with another Singha beer. Before he could crack that open we stopped him and politely reminded him that we requested an "Ahhh -Saah – Heeee" and pointed to the Asahi in the fridge behind the bar.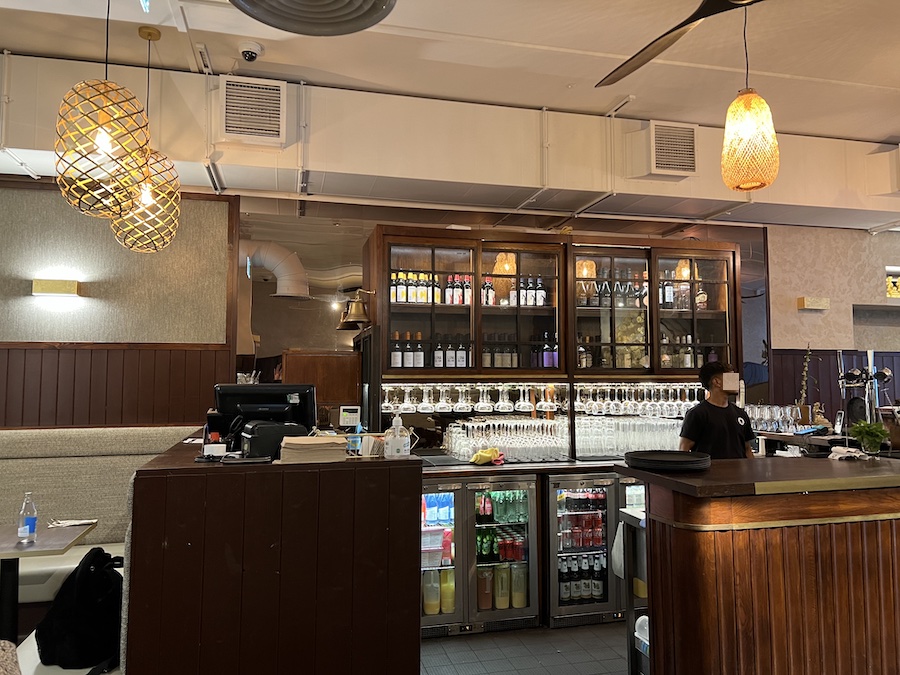 The message then sank in and the correct drink was brought. If this was what the service was like, how would the food be, I mused.
The Miso Cod looked interesting, so I ordered it as the main following some fish cakes as a shared starter. My co-diners chose Green Chicken Curry with egg fried rice and a Green Curry Jay with coconut rice.
The fish cakes were alright but nothing to write home about (very thin and a bit rubbery). Soon after came the mains.
What followed was fairly underwhelming. The Miso Cod was not exactly what I'd call a large portion of fish (a small square) and it was pretty crunchy to cut. Maybe that's the way it's supposed to be, I thought.
A few bites in and it became clear that the outside of the cod was cooked 'very well' and wasn't really very edible. What scant amount of fish was inside was dry and not very satisfying.
Glancing over at my co-diners plates, I noticed that they too were leaving significant amounts uneaten. We were all quite hungry when we entered the restaurant, too. It was decided that we had had enough of Busaba's cuisine for one day and desserts were skipped.
The service charge of 10% was automatically included so there really was no choice for leaving a tip if you didn't think that the experience was worthwhile. They also charged for the erroneously delivered Singha (no offer to take it off the bill).
All-in-all, a pretty miserable experience and we have no choice other to present the facts as they are for this Busaba Oxford review. Perhaps the warning signs of an empty restaurant in the middle of bustling Oxford City is a bad omen after all.