Positioned on a corner within the charming environs of London's Shepherd Market, Titu aims to offer guests a captivating Japanese culinary experience. Read on to see what it's really like…
It's Bijou
Despite its small size (it really is tiny), Titu radiates a cosy and inviting atmosphere. Its interiors, a fusion of modern minimalism with hints of traditional Japanese aesthetics, create a calming yet chic dining space.
The minimal outdoor seating area, adorned with subtle lighting and comfortable furnishings, adds a charming touch, making it a perfect spot for a serene alfresco dining experience.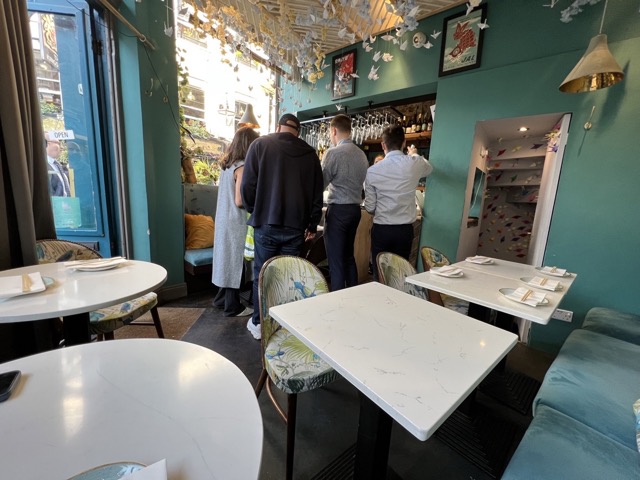 Let's Eat
Beginning with the salted edamame, the chefs demonstrated their mastery over simplicity. The freshness of the edamame beans, enhanced beautifully by a gentle sprinkle of salt, set the tone for the meal.
The spinach & sesame salad was another delight. Fresh, crisp spinach leaves, tossed in a lightly flavoured sesame dressing, offered a satisfying balance of textures and flavours – a refreshing palate cleanser in preparation for the subsequent dishes.
The Salmon Double Uramaki was another triumph. The sushi boasted fresh, succulent salmon expertly wrapped around vinegared rice, creating a harmony of flavours with each bite. Each morsel encapsulated the essence of authentic Japanese cuisine, elevating the overall dining experience.
The spicy prawn was a gastronomic delight. The prawns, cooked to perfection, were served in a subtly spiced sauce that delivered just the right amount of heat, teasing the taste buds without overpowering the natural sweetness of the prawns.
The miso aubergine was another highlight. The smoky, caramelised aubergine, glazed with a rich miso sauce, was a melting pot of flavours that complemented the plain steamed rice perfectly.
The bill came to £54.45, inclusive of a service charge of £6.05 and VAT of £8.07. Considering the quality of food, presentation, excellently attentive service, and the overall ambience, I found it offered very good value for money. In fact, almost unheard of in this quarter of London's Mayfair! That said, only tap water was on the drinks menu.
Overall Thoughts on Titu
The delightful ambience, impeccable service, and exquisite flavours on offer made for a thoroughly enjoyable experience.
In conclusion, dining at Titu was an unforgettable culinary journey. This petite Japanese restaurant, with its heartening food and minimalistic charm, stands as a beacon of authentic and delightful Japanese cuisine in the heart of London. It's all about no-frills and great-tasting food and vibes. Just go there!