Neff's kitchen appliances are world-renowned as their lengthy appliance model names. In this Neff N30 B6CCG7AN0B review (see?) we examine the aspects of this small built-in oven to find out what it's really like.
Main Features of the N 30 B6CCG7AN0B
First up, let's focus on the oven's top three features
CircoTherm
CircoTherm is a technology developed by Neff that allows for three-level baking at the same time. It utilises high-speed airflow method to achieve this ability to distribute 'even' cooking across all oven levels.
The air is drawn from the oven using a fan that forces it back into the oven's cavity through rear-wall ducts. It also means that temperatures can be reached much more quickly compared to other ovens.
Hideaway Door
Here is something that you don't tend to see very often, and a pretty neat feature. The oven door can fully retract by moving it under the oven so that it's fully out of the way.
This is particularly useful when you have a large item in the oven and need all of the space that you can get.
Self-Cleaning
Many ovens have the self-cleaning programme option these days. Using the EasyClean function of the B6CCG7AN0B, you can take advantage of pyrolytic cleaning and let the oven give itself a thorough clean without (supposedly) lifting a finger.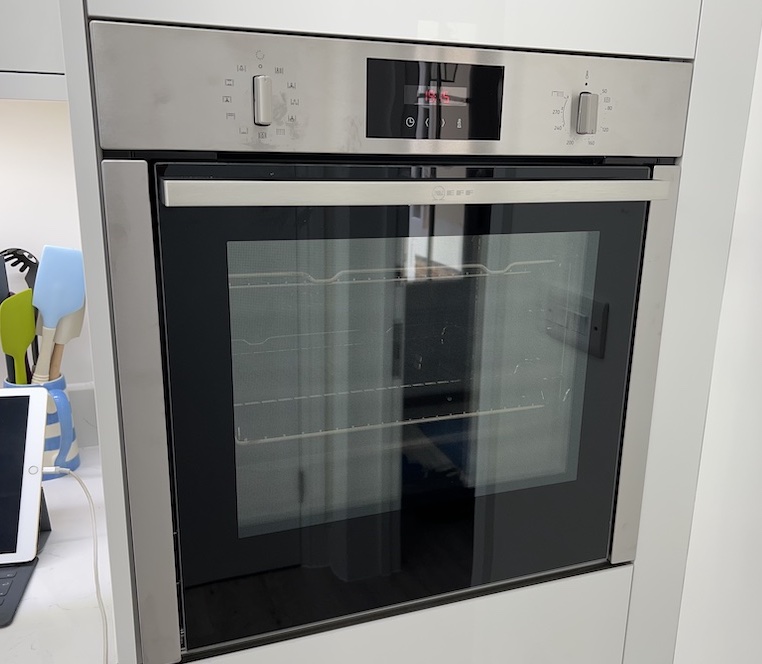 N30 B6CCG7AN0B Oven: Essential Information from Testing
In my experience so far, the oven works just as described which is very well. Cooking evenness is uniform as expected and it does heat up very quickly which is a very good feature.
It's a sturdy unit, made of stainless steel which gives you something nice to admire in the kitchen. However, a brushed steel finish sometimes does make smears a little difficult to keep clean at all times.
I should point out that there are no telescopic rails supplied with the oven. However, if you prefer these, they can be purchased separately. There is also no steam assist function in this oven model.
The B6CCG7AN0B does not have integration with Neff Home Connect.
On the plus side of the ledger, this is an oven that can be fitted into small places, coming in at 595 mm x 594 mm x 548 mm. It can be installed in a base cabinet or high cupboard.
The minimum temperature is 50 degrees and it can go all the way up to 275 degrees Celsius. One of the things that I really like about this oven is the fact that it has an energy efficiency rating of A.
Synopsis
Overall, the Neff B6CCG7AN0B N30 is a decent oven for doing the basics. The build quality is up to the company's usual high standards and the hideaway retractable door is something quite useful in small spaces.
The LED display is pretty clear and easy to read as the oven is simple and straightforward to use. I'll continue to test this oven and update here if there are any issues or new pieces of advice that I can provide.
All-in-all, this is a very good built-in oven with some great features and one that is useful where space is limited.