Coffee aficionados from across the globe are always searching for a perfect cup of the good stuff. Is it possible in this Miele CM 7750 review that a machine can be shown to deliver? Read on to see what we found in this completely independent review.
The CM 7750 is also known as "CoffeeSelect" although, given that it also makes tea and hot chocolate, this name is probably not very apt. Most people will, of course, be mainly looking at it for the coffee-making side of things but let's refer to it as the CM 7750 from here on in.
Setting up the CM 7750
Once unwrapped the main unit and included parts, I always refer to the instructions before using such a premium price gadget for the first time. Spending thousands on a drinks maker is madness enough alone, so why try and guess how it works, I say!
There is the usual 'Quick Start Guide' included, and this comes with a written warning to also carefully read the chunkier Operating instructions manual. So, it's best to do it properly.
Location, location, location
If you are considering taking delivery of these units, do make sure that you have a decent bit of space to plonk it in. It's quite a big machine, with the dimensions being as follows:
Depth: 44.5 cm
Width: 31.1 cm
Height: 42 cm
You will also want to have enough space behind and around the machine for it to 'breathe'; i.e. a well-ventilated space so as to prevent overheating. The instructions also warn that it should not be placed close to a window in direct sunshine or adjacent to another heat-producing appliance.
CM 7750 Accessories
With the CM 7750 in position, I found all of the accessories as promised in the box. Those being: a milk flask and siphon tube, cleaning tablets (for brew kit degreasing), descaling equipment (a cartridge that goes in the back of the machine & descaling tablets), a cleaning brush and a smart vacuum cleaner attachment used to clean the coffee chute.
After this, it was a matter of getting straight into it. Attaching the milk siphon tube and flask was done in a jiffy. Then, remove the water container and fill it up (after a quick clean) just up to the "max" line.
Touch Screen Guide
The CM 7750 interface is a Liquid Crystal Display (LCD) touch-screen located on the front of the unit. Before using the machine for the first time you need to go through the setup guide which is all done via the screen.
When I was setting it up, after going through the usual date/time stuff, a warning message was shown. It was 'Fault F233' (cup sensor not inserted correctly).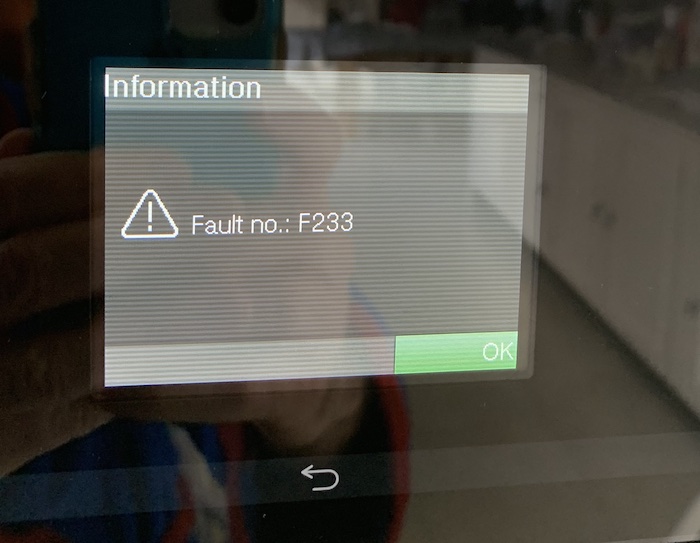 I pressed OK and followed the instructions that recommended switching the CM 7750 off and back on, then try to continue but this would not go away so I called the Meile support line.
It all got resolved pretty quickly. I just had to reseat the central spout (which was apparently not properly aligned) by taking it off (easily pulled it away as it is magnetised). I would not have felt confident in doing this by myself without the assistance of the helpline!
Bean System Containers on the CM 7750
The unique feature of the CM 7750, when compared with earlier models in the series, is that of the 3 bean containers.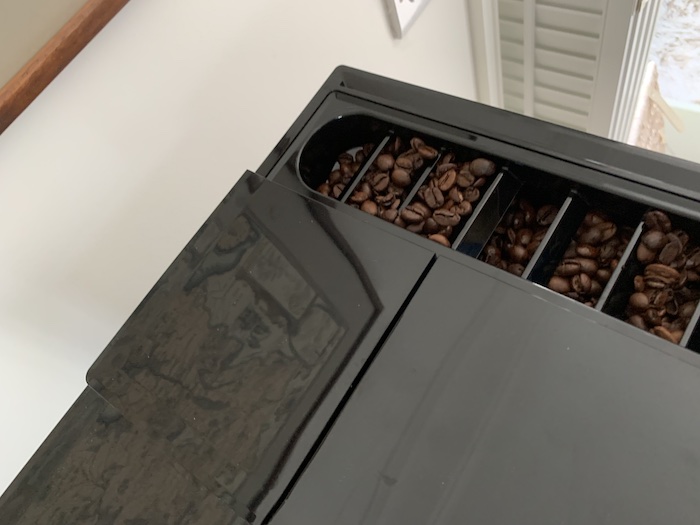 So, you can have three types of roasted coffee beans, one in each container. For example, in container 1 you might have decaffeinated, in container 2 beans more suited to espressos, and another type of bean in container 3.
Similarly, if you only ever use one type of bean, you can fill all three containers with this bean. The main thing is to name each container (via the touch screen LCD I mentioned previously) with the appropriate bean type!
You can then allocate each bean type to the coffee drinks that you plan to make using the CM 7750 You can, of course, rename the bean containers later if you decide to change the contents of the bean containers.
Features
Automatic Cup Detection
One of the nice features of the CM 7750 is that it has a sensor on the central spout that automatically detects the height of your cup placed in the drink delivery area. This means that when it fills up the cup, it does so by moving the dispenser as close to the cup as possible.
This reduces the possibility of drips and splashes jumping out of the cup. Brillant, as of course some cups are taller than others.
Cup Heating
There's something nice about having a warm cup to drink from. The Meile CM7750 delivers this nice-to-have with a long cup warmer.
This is conveniently located at the top of the machine and you can turn your cups upside-down on it and let them be heated to your satisfaction. You can turn this feature on or off as so desired.
Coffee Made By The CM 7750
This is a list of the coffee types made by the CM 7750:
Ristretto: A strong espresso that contains much less water than a regular espresso
Espresso: The old favourite using espresso beans with the crema froth on top
Coffee: More water than an espresso, using coffee beans
Long coffee: Made with more water than a standard coffee
Long black: Essentially hot water and two espresso shots
Caffè Americano: Hot water and espresso, with the espresso being made first
Cappucino: Two-thirds milk froth to one third espresso
Latte macchiato: One third each of hot milk, milk froth and espresso
Caffè latte: Coffee & hot milk
Cappucino Italiano: Like a cappuccino but with the espresso is added first
Espresso Macchiato: An espresso with a little milk froth on top
Flat white: This is a large cappuccino
Café au lait: An espresso with milk that is slightly hotter
Can the CM 7750 Handle Ground Coffee?
For a very expensive coffee-making unit from Miele, you would hope that you could also use ground coffee as well, right? Well, you won't be disappointed because it does.
To do this, you use the coffee scoop that sits neatly in the side compartment of the unit on the right-hand side (the appliance door as they call it).
Cleaning the CM7750
Well, there is only one big downside to all of the above: maintenance. There are daily, weekly and monthly requirements for maintaining the unit.
The machine alerts you to clean it on a regular basis and some of it can only be done by hand. There are some parts that can be put in the dishwasher, too (thankfully!).
However, be aware that in order to get the fab coffees that the machine makes, you will spend quite a bit of time ensuring that it is regularly cleaned! Don't assume that it's as simple as changing the water daily (which, of course, is also required).
For example, here's a video showing how to clean the brew unit (below). It's the same as for the CM6xxx models, so the same process can be followed.
One major difference between cleaning this machine and the CM6xxx models is that the milk is on the opposite side of the main unit.
Therefore, while the next video shows how to clean the central spout, it's mainly the same process but the arm (shown being removed 47 seconds into the video and put back at 1:24) faces the other side of the machine (to the left) on the CM 7750: