A few years ago a friend mentioned that he did his ironing without an ironing board. He told me that he just hung his clothes up on a hanger and used a hand-held steamer device. I was intrigued.
Time passed and I knew that I simply had to test this idea and by doing so have written this Tefal DT8150 Access Steam + Steamer review. Does this steaming idea really work or not and how does this product perform? Let's dive in.
What's in the Box
The full kit that arrived is shown above. In summary, this comprises:
the handheld steamer unit (that comes with a pretty long cord, thankfully)
a hanger device that makes it easy to have a coathanger nestle neatly on a door
attachments that can be used when steaming different types of garment
a bag for carriage or keeping all of the above in when not using it
Steaming Results Before and After Photos
Let's get right to the point and allow these before and after images to do the talking for us in this article: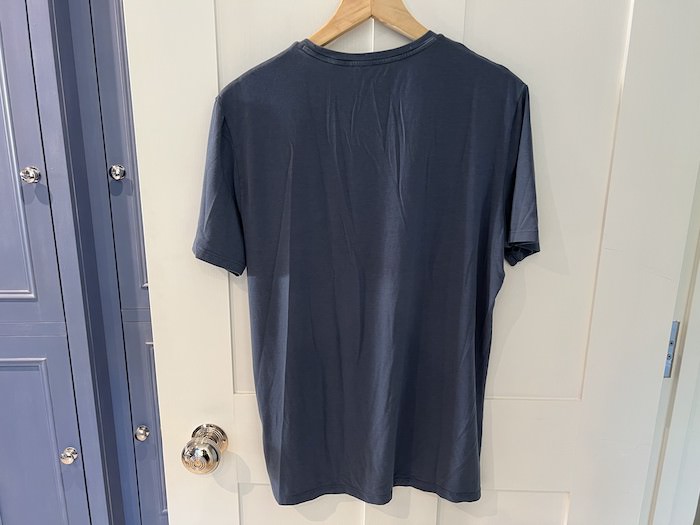 Thoughts on the Tefal DT8150 Steamer
Let's be realistic about this. There is likely never going to be a better way to get really deep wrinkles out of clothes other than by using an iron.
However, as the photos show, for lightly creased clothing, the Tefal DT8150 has done a pretty decent job here. The final images (a cotton business shirt that was a bit creased) came up as acceptable in my mind but an iron would have managed to make it slightly better.
That's probably where the trade-off comes in. Do you really want to spend long periods of time wresting with an ironing board and all of the palaver of ironing when you can get a very acceptable result with a steamer?
Points to Note About the Steamer
While reviewing the Tefal DT8150, I thought that it would be prudent to make a few notes about what to expect. They are listed here:
It doesn't take long for the steamer to get rid of creases, so you can get through items pretty quickly. Faster than using an iron, in my experience.
You'll need to regularly top up the water in the steamer to keep it running
All steaming is done with the garment already on a coathanger, so it feels like it saves a bit of time when you have finished using the steamer on each item
You'll need to let it cool down for at least an hour after finishing your steamer session
It handles light to medium creasing pretty easily
Keep the room that you use it in well ventilated to prevent it from steaming up
For heavily creased items, an iron is likely to be a more efficient option
The power cord is 3 metres in length, which should be enough for most situations
Here's a DT8150 promotional video from Tefal which shows the steamer in action and some of its capabilities:
Do I recommend the Tefal DT8150?
As my first venture into steam cleaning, I did not know what to expect from the process. The routine felt strange at first as I'd only ever used an iron previously.
Not having the hassle of needing to get an ironing board out was definitely a bonus, and the DT8150 heats up really quickly. You can be using the steamer just 40 seconds or so after plugging it in.
In my opinion, the results are pretty good. Often when ironing, I accidentally manage to make new creases and then need to iron them "out" again. This is not the case with this steamer. Just let the steam do the work.
All of these elements combine to give this method the edge when compared to using an iron and ironing board. That's why I certainly do recommend this method and this particular product as well.
It feels solidly built and, overall, I have been pleasantly surprised. As usual, I will continue to use the DT8150 and report any further findings here.