Wifi mesh systems are well-established technology and one of the leading brands is Linksys with their Velop range. In this Linksys Velop review, I will share my experience of using and testing the Velop whole home mesh Wi-Fi System: The good, bad and ugly!
The Basics
In essence, you define and connect a Parent node to your Internet-connected router/modem. This node becomes your new access point to which you connect to the Internet from. You will define its network name (SSID) and password. This is the beginning of your mesh network.
Following this, you add network Child nodes that are within range of that parent node. These children receive the signal from the parent node and create an extended Wi-Fi area around your home/office/gym/garage/whatever.
Setting Up Velop
Instead of providing a complete step-by-step guide on how to put a Velop system together, I will share some tips and pointers relating to my use of the system as I go along. Read the manual and follow the (pretty straightforward) instructions – just do it to the letter!
The setup itself can actually be frustrating if you have not got much experience with Velop. Thankfully, I have, and my main recommendations are as follows:
Be patient – The system takes a good 5-10 minutes for each node to come online. Rushing it will definitely cost you more time in the long run!
Use the support line if you get stuck – Linksys has a really helpful support centre and I have called them many times. The support agents are all really well trained and really do care about helping you out
In my case, I have set up a Velop Wifi Mesh that covers a massive area. However, to do this I also utilise the ethernet ports on the Velop nodes in some areas. These are really handy if you happen to have ethernet in some rooms (even if it's mains electricity powered).
The way that this works is that if a child node is connected (via a standard network switch) using ethernet to the parent, it will receive (and be able to broadcast) a much stronger signal than if it were to be connected only via Wi-Fi.
If you don't have any additional ethernet connections, no worries! Velop is designed to use either and will give you a great signal to the places that it can reach.
Practical Usage
Once you get the hang of creating a Velop mesh network, you will get to know the limits of the signal strength in your desired location. There could be some areas that seem difficult to penetrate and others where the signal is incredibly strong.
Strength Tip: I always use the "Internet Speed Test" to check the speed in different locations in my house. Do this instead of looking at your phone and seeing how many bars of Wi-Fi it's showing. This is pretty useless. You want to know speed, not signal.
Is the Linksys Velop Mesh System Any Good?
After several years of using the system (in many different configurations), I can testify that it does work – and very, very well. There are a lot of configuration options available on the app (including some handy security settings) once you get it up and running.
That said, I have had a few bumps along the way. This included the time when I extended the system to my garage and decided to make a separate parent node for it. This is possible, but probably not recommended. In the end, after speaking with Linksys tech support I decided to change everything back to the same network SSID. All worked beautifully since.
As mentioned, the key is to be patient when setting things up and also wait a little while after setup to let the network "settle in".
I don't know how else to describe it other than that, because sometimes it takes some time before it is all working properly – but eventually (if properly set up) it will. Trust me.
Can you Use Different Velop Mesh Models Together?
I have the original Velop mesh system (ethernet ports on the underside, the newer WHW0102 nodes (ethernet ports on the side) and the range extender (no ports).
Yes, you can use them all in the same network. All work together seamlessly. The WHW0102 model (shown below) is smaller and I find this to be the best. the larger ones are a bit too big for certain situations.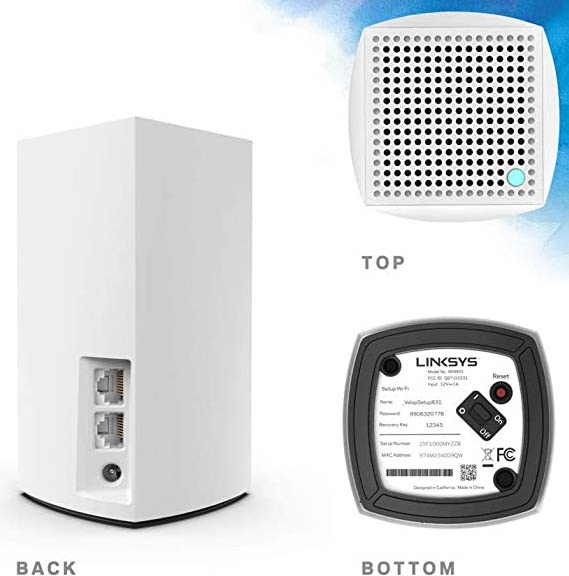 Can you Use Velop Outdoors?
I wanted to extend the Wi-Fi signal outdoors to reach some security cameras, but it just wasn't strong enough to do this from inside the house (especially in poor weather conditions).
However, I was able to achieve outdoor usage. This was done by enclosing a Velop node in an IP-rated box (no ingress moisture…IP65 and IP66 are good for this purpose) along with a power supply.
Of course, that took an electrician as well as a little bit of power cable dragging/clipping (I also extended the ethernet to the box as well) but the Velop seems to (so far) handle both hot and cold conditions with ease.
Conclusion
It's a testament to the product itself that I have added several nodes (9 in total) to the original 3-pack over time. Signal strength is great in every area that I want.
So, to round out this Linksys Velop Wi-Fi System review, this is a product that I would highly recommend overall. The one thing I would say to avoid is the single extender units, as these don't seem to be as powerful. Better to stick with the nodes with ethernet ports on them.
That's everything that I can think of for now about the Velop system.