When looking into high-quality sun shades, Glatz is a brand that you will often come across. In this Glatz Alu-Twist Easy parasol review, I provide first-hand experience of what it's like to use one.
Swiss parasol maker Glatz produces a number of different models of their specialist items. Selecting the most appropriate one for your usage depends on what you are interested in.
What is the Glatz Alu-Twist?
In the case of the Alu-Twist, it's an umbrella/parasol sunshade that has the ability to be angled. Opening and closing are operated via a wind-up crank to get the canopy raised and lowered.
To adjust the angle of the shade, this is done simply by twisting a mechanism on the shaft.
The pole is made of lightweight aluminium and slotted into a base (sold separately). You can check out the full specification on the Glatz site here.
Shapes and Sizes Available for Alu-Twist
You can get the Alu-Twist in a round or cornered (square or oblong) canopy and in different sizes. The choices are as follows:
270 cm round
300 cm round
330 cm round
240 x 240 cm square
250 x 200 rectangular
210 x 150 rectangular
All About That Base
Regarding parasols, I prefer to get a portable base unit. Why? The angle of the sun is constantly changing throughout the day, of course!
Unless you want to move your chair/lounger around, I have found it far better to be able to move the Alu-Twist instead. Depending on the wind resistance of the Alu-Twist Easy that you are considering, differing base weights are required.
You can pick up a 40kg base with wheels from a specialist stockist (the Glatz ones are very pricy) by shopping around.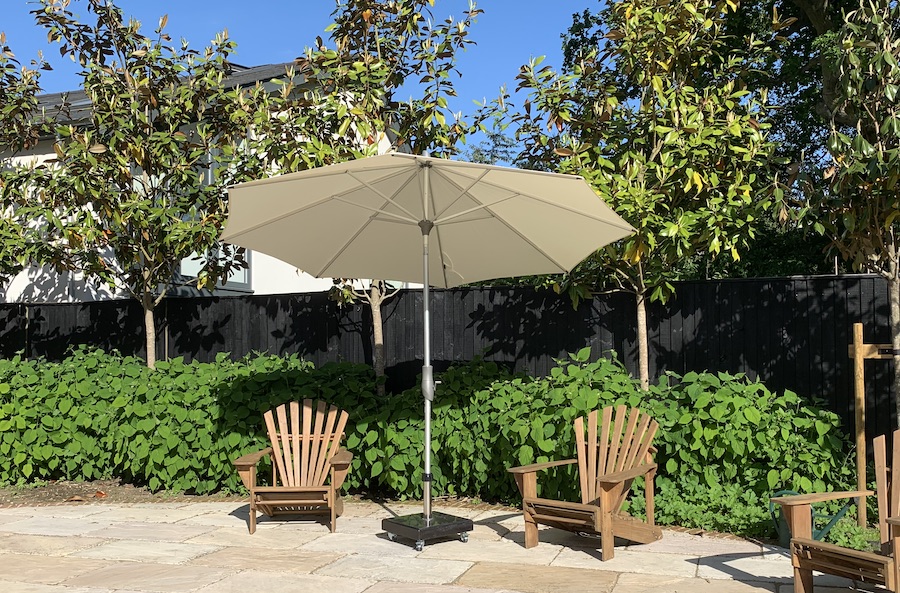 In the photo above you can also see that the wheels give you a little bit more height on the parasol. Note also that the neck of the Alu-Twist has been angled.
Wind Speed/Force and the Alu-Twist Easy
One of the big attractions about Glatz is that they publish wind maximum speed statistics about their parasols. It goes without saying that the bigger the canopy, the more prone to wind these tend to be.
From my experience so far, it also seems the case that angled parasols like the Alu-Twist Easy are able to handle less wind force when tilted. Keep this in mind, as you might find it spinning around if not keeping an eye on it when the wind picks up.

Shopping Tip
If you go the the Glatz website you will probably (like me) consider the pricing to be really expensive for the items. Don't let that put you off.
There is no doubt after receiving the product that it is made of really high quality materials and of an equally high construction standard. And you can only buy from stockists in your country.
My tip is not to go on the Glatz site, work out what bespoke parasol that you want (the colour scheme, materials, size) etc and then request it from the local country retailer.
Why? Doing this will mean that if the local stockist does not have it available, they will request a quote from Glatz – which will be very highly priced.
To get an Alu-Twist Easy at a reasonable price, look at what the local dealer has got in stock already and choose from that. It should mean a massive price saving, especially if they have some that are reduced to clear!