Robotic lawnmowers have gone from being a relatively new idea to a mature product in a short space of time. In this Husqvarna 405x review I look at the performance, features as well as other important aspects of this Swedish automower.
The 405x in this case replaces a Robomow RS612 that had given up the ghost so the differences are also noted.
Main Features of the Husqvarna 405x
Cuts up to 600 square metres of grass (or thereabouts)
Bluetooth connectivity via mobile app
40 percent slope within boundary, 15% on the boundary
Frost guard
GPS-assisted navigation (and theft tracking)
Headlights!
Installation and Edge Mode
A little later in this review, I'll discuss a bit about the installation process. However, first up it's important to make a point about grass edging.
Like all lawn custodians who run robotic lawnmowers, I want to have clean edges that the mower takes care of. Some mowers (eg Robomow, Landroid) have a function where the mower can get very close to walls and hard edges by following the perimeter/boundary wire in a parallel direction.
However, the Husqvarna does not have that function. Instead, it needs a turning area once it drives over the boundary wire. This will cause problems for you in certain garden setups.
Borderline Issues
For example, if your grass abuts a brick wall, the Automower won't be able to get close enough to cut that right up to where the grass meets the wall. You're therefore going to need to cut the part right next to the wall separately.
That's not ideal, is it? However, there are solutions for dealing with this. Instead, you may consider altering your garden's mowing area by adding paving stones/slabs to alleviate such issues.
You will basically need to give the automower enough solid turning area ground distance to be able to cut all the way to the edge of the grass border. It's more work, so you really should consider if this is something that you want to put up with first.
Performance Results: Husqvarna 405x Review
So, how does the Husqvarna 405x perform out in the field (literally)? It is useful that we can compare the quality with that of my old (now retired after 6 seasons) Robomow.
Spiral Cutting
When this mower was first installed, the grass had grown pretty tall in places. One of the first things that I noticed was that when the Husqvarna 405x automower found its way to one of these patches of tall grass, it appeared to start 'spinning' on the spot.
At first, it appeared that it was perhaps malfunctioning, but then I noticed that after dealing with the area of tall grass, the mower carried on to other parts of the lawn. Then, when encountering another tall grass area, it did the same.
Later, when using the Automower app that connects to the 405x (see screenshot below), I found that this is a feature called 'Spiral cutting'. In essence, this spiral pattern only happens when the mower encounters such areas of longer grass. It can be toggled on or off in the app 'Operation' settings
Here's a short video showing the Husqvarna Automower spiral cutting on a particularly long patch of grass set up to show this feature: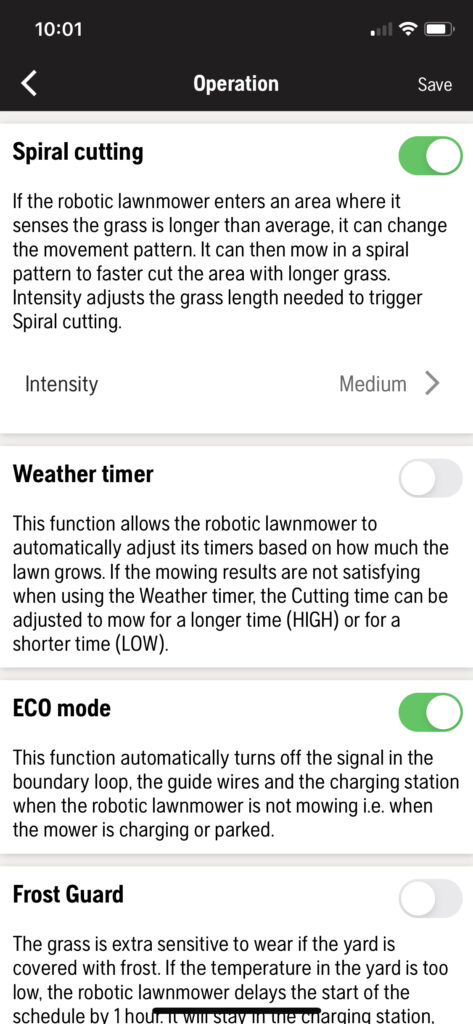 There is another pretty handy option on the 405x that makes the mower start at the maximum cutting height and achieve the target height after a 10-day period. This is important because if you started on a low setting, the mower would not be able to handle it straight away if the grass was too long.
Oh, so quiet
One thing that is really noticeable from the start is that the Husqvarna 405x is ultra-quiet, and especially when compared to the Robomow that it replaced.
Watch this video that I took to give you an idea of the sound. It was taken at 8:30pm near the end of May.
Mobile app
One of the major reasons to opt for an 'x' model is that the mobile app can be used in conjunction with them. In fact, it's a pity that not all models have this given that they are so useful.
This gives you the flexibility to control your mowing schedule, cutting height etc from anywhere on the planet – although chances are that it's most likely that will be from inside your house! There are a few of the settings that need Bluetooth and these are greyed out to show that they are disabled when you are out of Bluetooth signal range.
I'll be assessing the rest of the full mowing results here as time goes by.
Installing the Husqvarna 405x
This video from Husqvarna gives a pretty in-depth guide to how you set up the 405x and all of the other automowers in the range.
One of the issues that I found strange (and frustrating) was that it didn't come with all of the necessary items to start using the mower.
I had to go online and buy some additional items to connect the wires to the base station. It's the purple plastic things shown in the image below: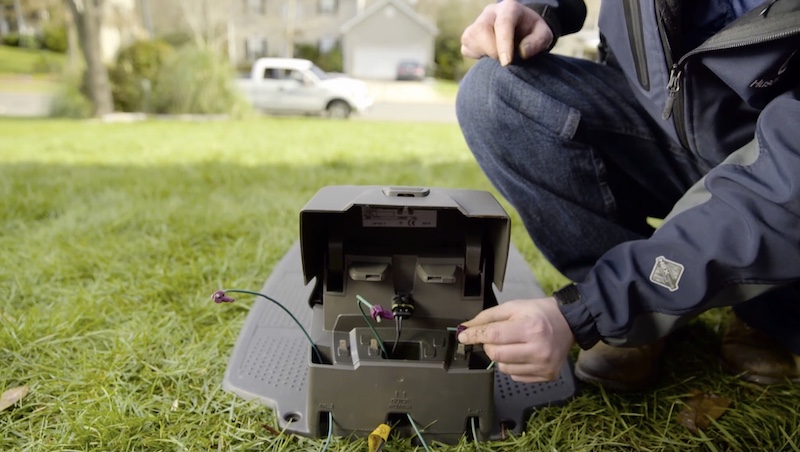 These are called Husqvarna AM ACC wire connectors. They come in a pack of 5. Quite why these are not included in the box I have no idea.
Fortunately, I already had the guidewire installed from the Robomow so this was one task I would not need to repeat (as it takes a while).
However, if you do need to lay the ground wire, it's not too difficult and the time it takes depends on the size of area that you need to cover. So, as we are doing this for a 405x it can be only up to around 600 square metres.
405x Accessories
Some useful and other fairly superfluous accessories can be purchased for the automower and for the purposes of this Husqvarna 405x review I have not needed all of them.
However, this first one (House) has been purchased:
Husqvarna Automower House
With my previous robotic lawnmower, a Robomow, it did not have a 'home' to go to between mows. This proved to be a problem, as the LED display became faded and the body faded and cracked. See photo, below.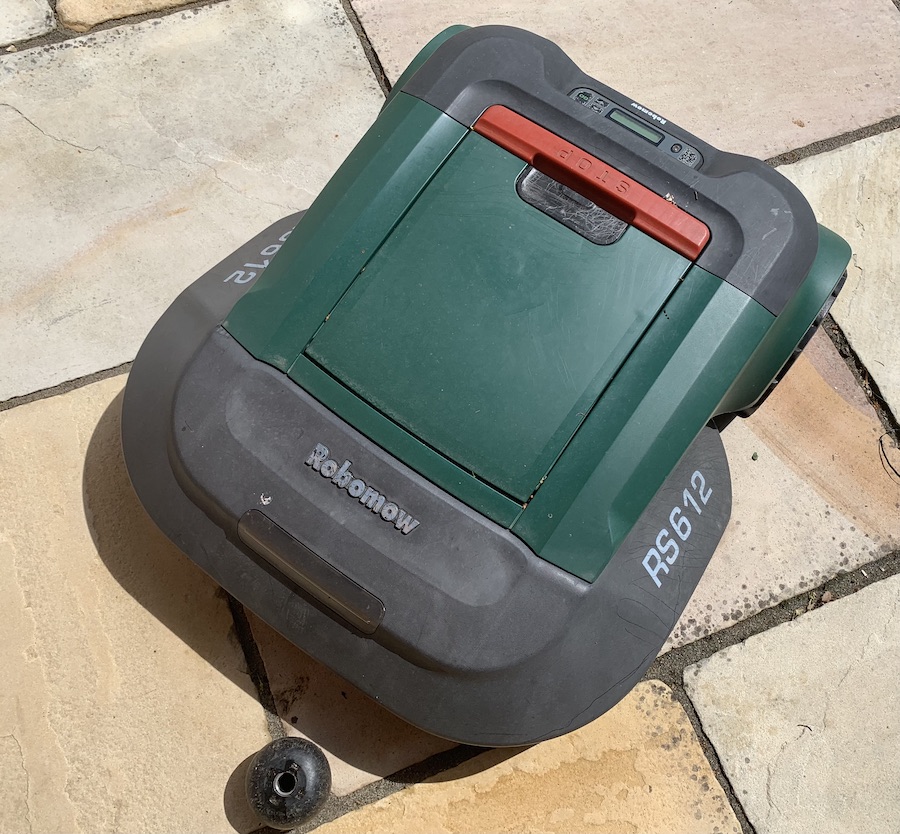 The Robomow mower still operated fine but, thankfully by that point, I was using the mobile app to control the mower (so being able to see the screen was not necessary).
So for this one, I decided to opt for the 'House'. These can be used for the 300 series automowers and also the 405x and 415x models.
The 'home' cover protects the Husqvarna 405x from weather conditions when it's not out and about mowing your grass. It's not exactly a cheap item considering what it is.
Installation Kit
Yes, you really do need to buy a separate installation kit if you want to actually get the mower working! The kit includes the loop wire, splicers, connectors and lawn staples.
It kind of does make sense that if you already bought a robot lawnmower previously to this, you would not necessarily need to use the stuff again. But, still, come on Husqvarna – it can't be that much more expensive to include in the mower purchase.
Wall Hanger
There are other perhaps less useful accessories that can be purchased for the Husqvarna 405x such as a wall hanger. This is so that you can store it for the winter months somewhere and save a bit of space.
For those who feel the need, there are also decal kits available to give your mower a different 'look' – such as camouflage fatigues, zebra stripes or a ladybird. Silly but fun.
Lead-out cable (10 metres)
If the supplied cable just won't reach where you want it to, there are longer cables available.
My tip for all accessories is to look at the price on the Husqvarna website and then go hunting for the item elsewhere where you will inevitably find it way cheaper. Some of the items such as boundary wire (which is basically a simple metal wire) are very expensive indeed on the site.
Husqvarna 405x vs 315x Models
Some of you reading this Husqvarna 405x review may be torn between buying this and the 315x model as they appear (and are) very similar) indeed. So what is the difference between the Husqvarna 405x and the 315x automower? Let's take a look at the essential differences:
The 315x is more expensive than the 405x. The only major difference in operation is that the 315x is capable of mowing a larger area (up to 1600 square metres vs the 600 m2 for the 405x).
So if you are deciding on a Husqvarna automower, your main question should be whether or not you need to cover the larger area and pay the extra amount for it.
Husqvarna 405x Review Honest Opinion
Overall, I really like the Husqvarna 405x. It has almost every feature that I could possibly think of needing except for edge mode. It is almost silent when it runs, can be used from a mobile phone, includes innovative features and gives a really great cut.
In terms of value for money, the mower itself seems very reasonable for what it provides, although I feel that the accessories are overpriced. That would be my only real criticism.
It also has a nice sleek modern look to it. You're able to get skins for it if you want to really go over the top with a new look and feel, too.The Husqvarna 405x is impressing me and, in my opinion, it is an excellent bit of technology.
That wraps up our Husqvarna 405x review. Updates will be made here if anything changes.