Nestled on 3 Pound Hill in the historic city of Cambridge, The Punter Gastropub is a delightful establishment that combines the hearty soul of a traditional pub with the refined flair of modern British cuisine.
Handy Location
Situated near the picturesque River Cam and within walking distance of several iconic Cambridge landmarks, including the Mathematical Bridge and the various college buildings of the University of Cambridge, the location is as appealing as the food itself.
Opting to dine al fresco, we found the outdoor area to be a particularly inviting space. The vibe was relaxed yet buoyant—a perfect setting for a casual meal with friends or family. Complemented by the charming surroundings, the overall atmosphere was undeniably pleasant.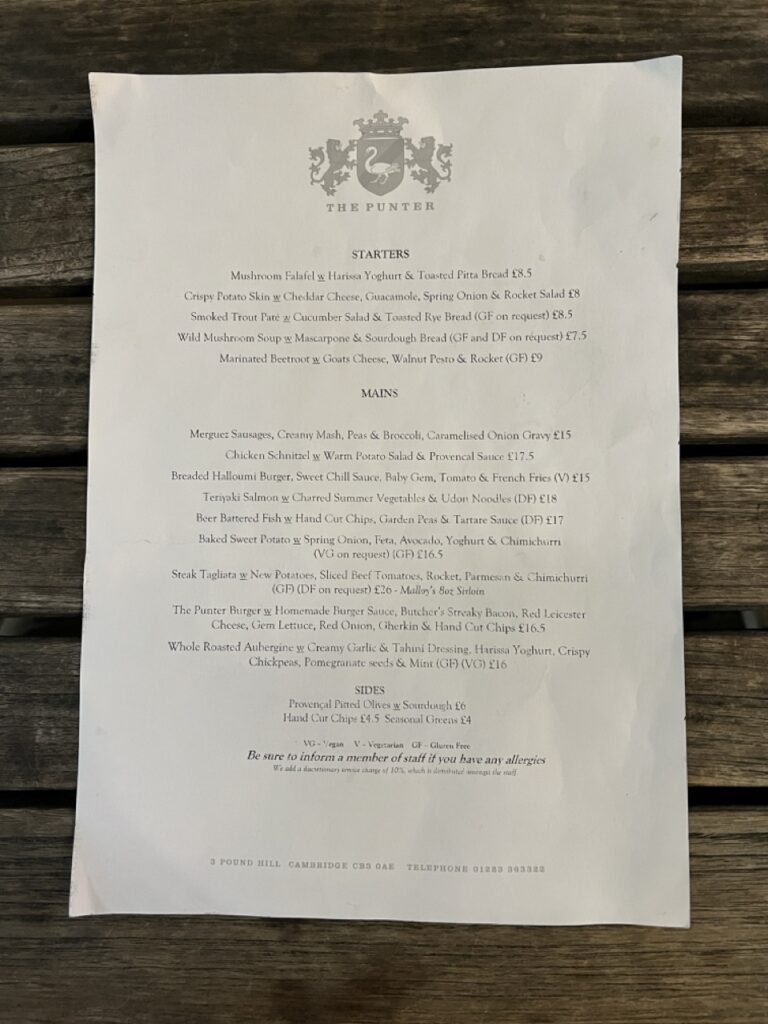 Our gastronomic journey began with beverages—a pint of Neck Oil IPA and a Big Tom tomato juice. The Neck Oil IPA was smooth, well-balanced and easy to drink, making it a solid choice for a beer aficionado. On the other hand, the Big Tom offered a refreshing and non-alcoholic tangy kick that was delivered to the table in a bottle with lid still in place.
Decent Pub Food
As for the main course, the Punter burger was a standout—juicy, flavourful and cooked just right. There was also a side of chips. These weren't the hottest but at least no mouths were burned!
The breaded chicken was crispy on the outside and succulent within, providing a textural delight in each bite. The salmon was cooked to perfection, its natural flavours elegantly coming to the forefront without being overwhelmed by seasoning.
To accompany our mains, we ordered a side of green beans and broccoli, both of which were cooked al dente and seasoned subtly, letting their natural flavours shine through.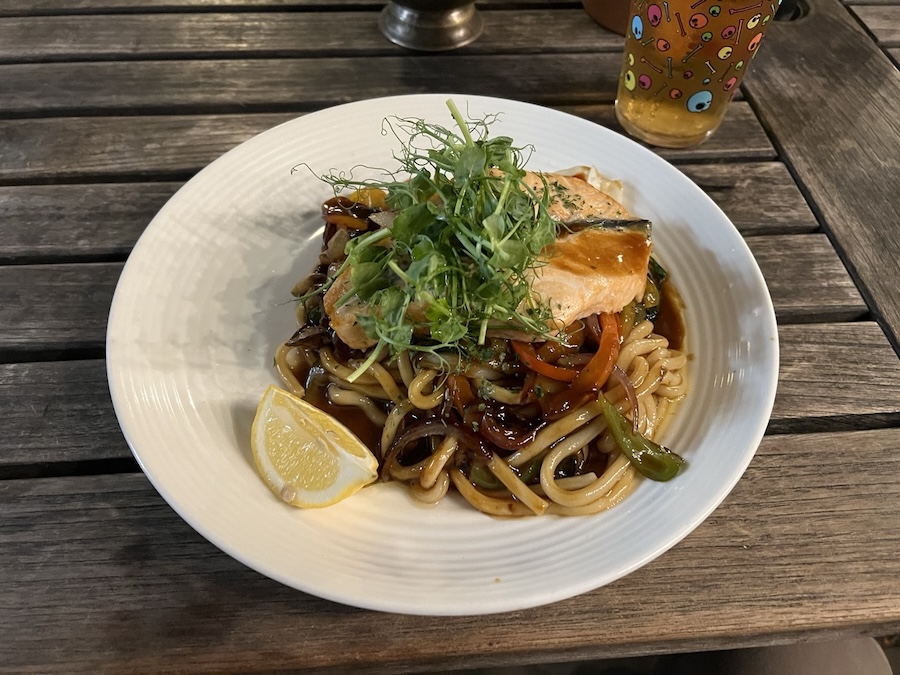 In terms of refreshments, a classic Coke was served in a pint glass, and it played its role as another meal companion to the burger.
It's worth noting that the service was commendably prompt, and the staff were courteous, enhancing the dining experience. When it came to the cost, we found the meal to offer good value for money, especially considering the quality and the charming environment.
In summary, The Punter offers not just an decent dining experience but also a superb location, making it a must-visit for anyone in Cambridge looking for quality fare in a relaxed setting. Whether you're a local or a visitor exploring nearby attractions, a visit to The Punter is a rewarding addition to your itinerary.