If you have a leaf blower connected to the power socket and want to break free, going cordless could be the answer. Here I do an in-depth review the Greenworks 40V cordless axial leaf blower and find out if it makes a big difference.
First up, let's look at the specifications…
Technical Specifications:
Model: Greenworks Cordless Axial Leaf Blower
Voltage: 40V (other models also available)
Battery: Lithium-ion, interchangeable with other Greenworks products
Air Speed: 110 mph
Weight: Approximately 3.2 kg
Run Time: Up to 24 minutes with 4.0 AH battery, Up to 12 minutes with 2.0AH battery
Charge Time: 60-90 minutes (varies with battery)
Noise Level: Approximately 60 dB
Variable Speed: Yes
Warranty: 3 years
Air volume: 390 CFM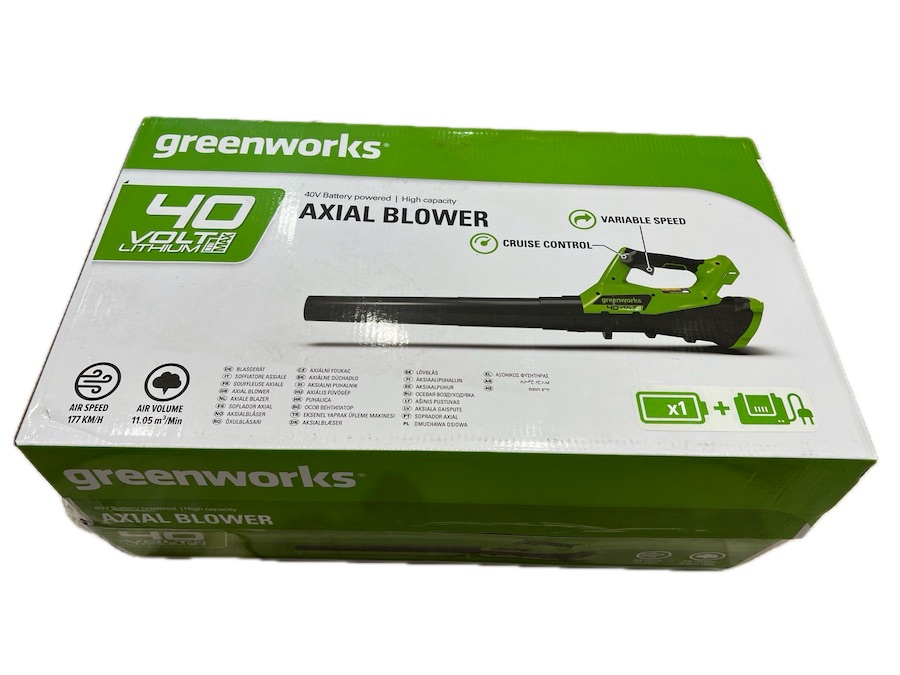 Uses
So, it might be a giveaway in the name, but what can you use it for? Here's everything I can think of:
Garden Maintenance
Ideal for keeping your garden tidy, the Greenworks Cordless Leaf Blower effectively moves leaves, twigs, and other debris. I've tested this extensively to blow leaves on my lawn into a central pile before picking up with leaf hands.
Patio and Driveway Cleaning
Quickly clear away dirt and leaves from your patio and driveway, making outdoor spaces more inviting. This is perhaps the most satisfying task to use the lead blower for, as it is so much less effort than sweeping with a broom/brush!
Light Snow Removal
I have yet to try this, but some users have even reported success using the blower for light snow removal from pathways and cars.
Pros and Cons of the Greenworks Cordless Leaf Blower vs a Corded Blower
Having previously used a leaf blower (which was also much heavier) connected to the power supply, I thought it would be useful to note how the experience differs:
Cordless vs. Corded:
Advantages of Cordless:
Mobility: The absence of a cord allows you greater freedom of movement around your property.
Convenience: Easily manoeuvre the device without worrying about cord length or the need for extension leads.
Safety: No cords to trip over, making it a safer option for multi-level properties or gardens with obstacles.
Quick Setup: Simply insert a charged battery, and the device is ready to go. Just make sure that you have extras if you have a lot of work to do.
Disadvantages of Cordless:
Limited Run Time: Battery life can be a limitation, especially for larger tasks.
Longer Charge Time: Depending on the battery, it can take up to 90 minutes to charge fully.
Higher Upfront Cost: Cordless models often come at a premium compared to their corded counterparts.
Battery Maintenance: Over time, batteries may need replacing, adding to the overall cost.
My essential tip: Ensure that you buy at least one additional back-up battery. It can be annoying if you run out of battery power just when you are nearly finished!
Advantages of Corded:
Unlimited Run Time: As long as you have access to an electrical outlet, you can use the device continuously.
Constant Power: No power loss over time, providing consistent performance.
Lower Upfront Cost: Generally cheaper than cordless models.
Disadvantages of Corded:
Limited Range: The need for an electrical outlet restricts your range. Using extension cords is a solution but it's also a hassle.
Cord Management: Extension leads may be needed, and cords can become tangled, impeding movement.
Setup Time: It takes longer to set up and put away due to the cord.
Is it Worth Buying?
The Greenworks Cordless Leaf Blower is a lightweight, robust, versatile and convenient tool for garden maintenance. It offers the mobility and ease of use that most homeowners will desire.
However, the limited run time and battery maintenance could be deal-breakers for those with larger properties or more extensive cleaning needs. If these limitations are not a concern for you, then this device is well worth considering.
Personally, I find that going cordless has been an absolute game-changer. Not having to stop and change to a closer power supply, not having to continually untangle the cable, and just the freedom to get around objects quickly and easily had made a massive difference and I'd never go back to a wired leaf blower again.