Located in the historic heart of Cambridge, Smokeworks on Free School Lane is a little gem that brings a modern twist to traditional smoked meats. Situated in a lane with a storied past—home to the celebrated Whipple Museum of the History of Science—the restaurant seamlessly blends the old and the new, much like Cambridge itself.
On this early evening visit, the interior of Smokeworks was already bustling with patrons, so we took advantage of their outdoor seating in Free School Lane. As we positioned our seats on the cobbled stones, it was a nice enough temperature to be outdoors even in late September in the east of England.
From the moment we arrived, the staff were genuinely welcoming. Although the restaurant was busy, they (with a special mention to Mario) managed to be both efficient and attentive, offering menu suggestions that demonstrated their comprehensive knowledge of the dishes on offer.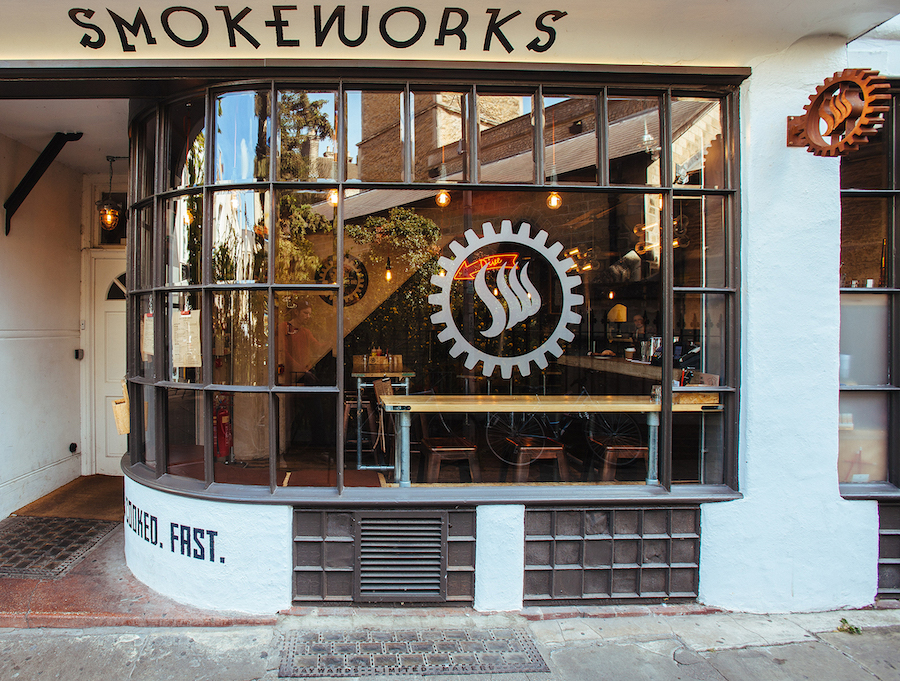 I went with a Korean pork bun, sided by a plentiful serving of onion rings. The pork was succulent and seasoned to perfection, exuding nuanced flavours of Korean spices. The onion rings boasted a delectable crunch on the outside while maintaining a soft interior, and they proved to be a pretty tasty accompaniment.
On JP's plate were the beef fries, an elevated rendition of a comfort food classic. The richness of the beef melded with the chips. The beef was adjudged to be OK, nothing spectacular but the chips were given a solid thumbs-up.
The House Dog , the classic staple was given a unique Smokeworks twist, complete with their signature sauces and condiments. It was given a very positive rating by our reviewer – a real flavour sensation.
To accompany these meals, we chose a bottle of sparkling water, a can of Coca-Cola, and a pint of 'Shine on Me' beer. The beer was a particular standout, offering a refreshing, smooth American pale ale finish that balanced out the richness of the food perfectly.
Dining outdoors added an extra layer of charm to our experience. As we enjoyed our meal, we were enveloped by the historical allure of Free School Lane, adding a sense of timelessness to an already exceptional dining experience.
Smokeworks is a great little restaurant; it's an experience that pays homage to both the rich history of its location and the culinary delights of its uncomplicated kitchen. With its sublime food, superb service, and enchanting atmosphere, both indoors and out, it stands as a spot well worth a look-in in Cambridge's vibrant dining landscape.
It is also very affordable so won't break the bank. Smokeworks address: 2 Free School Lane, Cambridge CB2 3QA