If you have a head for heights and enjoy top restaurants, London has several options that can match your tastes. What follows is a completely honest review of my (and another diner's) experience at the Michelin-starred Galvin at Windows.
Does it live up to its lofty ambitions? Read on to find out.
Location
Galvin at Windows is located on the 28th floor of the Hilton Park Lane Hotel. The exact address for your navigation is 22 Park Lane, London W1K 1BE.
It may be a little difficult to find the entrance at first, as we found as first-time visitors. The way in is actually from around the "back" of the hotel which is not that obvious at first.
Once you are inside, you then have to find the relevant lift to rocket you up 28 floors – we were directed by hotel staff in the end.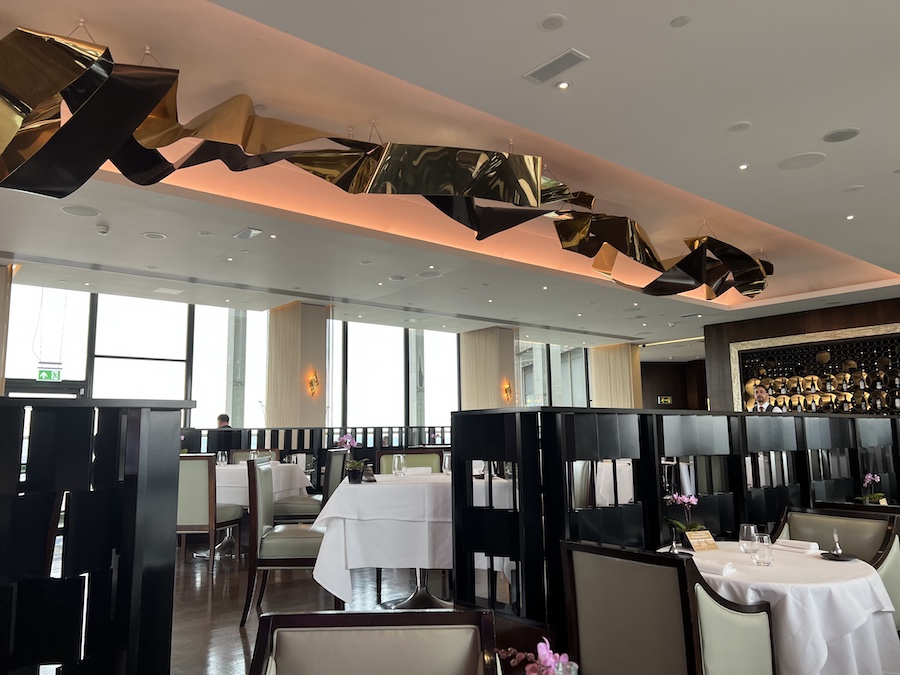 Galvin: The Name and History
The restaurant is named after its chef patron, Chris Galvin. He is a renowned British chef who has received numerous awards and accolades throughout his career.
This isn't the only restaurant that bears his name, either. He is the co-founder and chef patron of Galvin Restaurants, which includes some of London's most celebrated restaurants such as Galvin at Windows, Galvin La Chapelle, and Galvin Bistrot & Bar.
Chris Galvin's culinary style is modern French haute cuisine, which equates to seasonal and locally sourced ingredients. His menus typically showcase a combination of classic dishes with modern twists.
Having won many awards for his cooking, including the prestigious Catey award for Chef of the Year in 2016, Galvin has also appeared on numerous TV shows and cookery programs. He is widely regarded as one of the most talented and innovative chefs to emerge from the UK.
Galvin at Windows' Atmosphere
As well as boasting modern French haute cuisine, the restaurant has panoramic views of London.
As soon as I stepped out of the lift on the 28th floor (which is really fast) and into the restaurant, rather stunning panoramic views of London struck me. Most of the seating is arranged so that diners can have a great view, too.
Those floor-to-ceiling windows offer an unobstructed view of some of London's most iconic landmarks, including the London Eye, the Shard, and Buckingham Palace. In fact, you can see right into the back garden of Buckingham Palace. Check out this photo I took of it from one of the windows: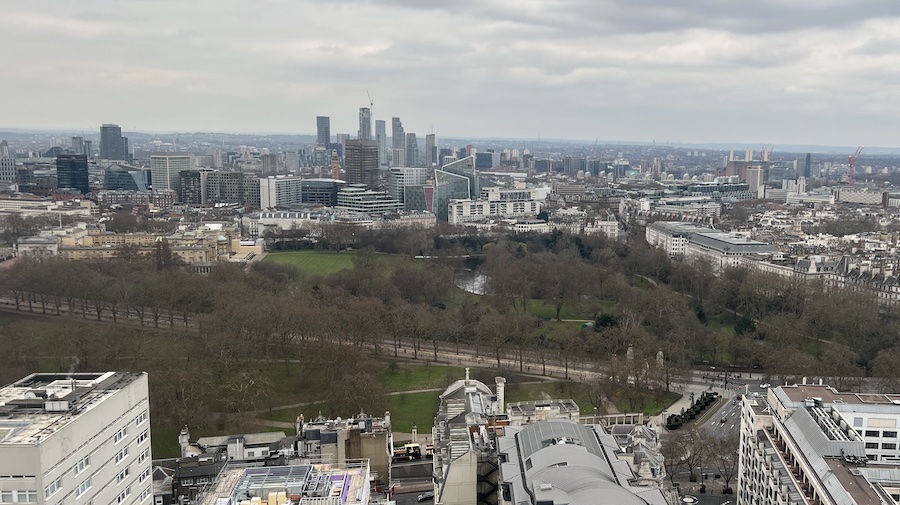 The atmosphere of the restaurant felt sophisticated and elegant. There were muted tones of grey and cream as well as dark wood furnishings. The soft lighting created a warm and inviting ambiance.
One of the nice things to do with the vibe of the place was that the tables were spaced out generously. This provided ample privacy for each party, as can be seen in this photo I took: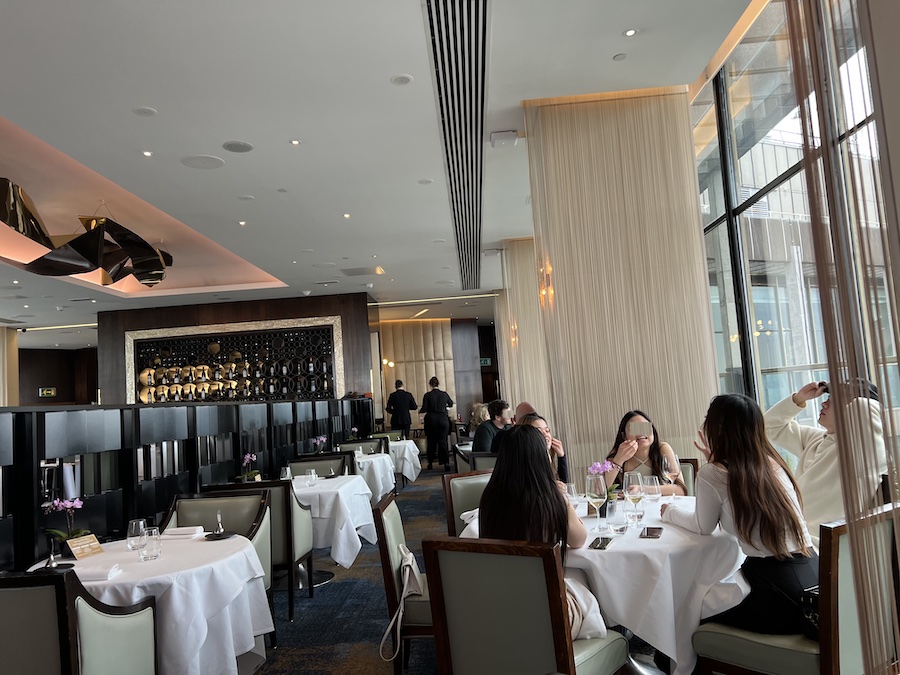 Menus & Food
The restaurant's menu features a range of dishes that showcase seasonal and locally sourced ingredients, and the wine list includes a carefully curated selection of wines from around the world.
Galvin at Windows has received numerous awards and accolades, including a Michelin star since 2010, and has become a popular destination for fine dining and special occasions.
We opted for the Sunday lunch menu, and the food was very competitively priced for a Michel-starred restaurant at £59 for three courses.
All meals consisted of a carefully curated selection of dishes that showcased the finest seasonal ingredients. For starters. we tried the butternut squash soup. One with the onion and one without. It was delicious and there was bread on hand to help mop up a bit.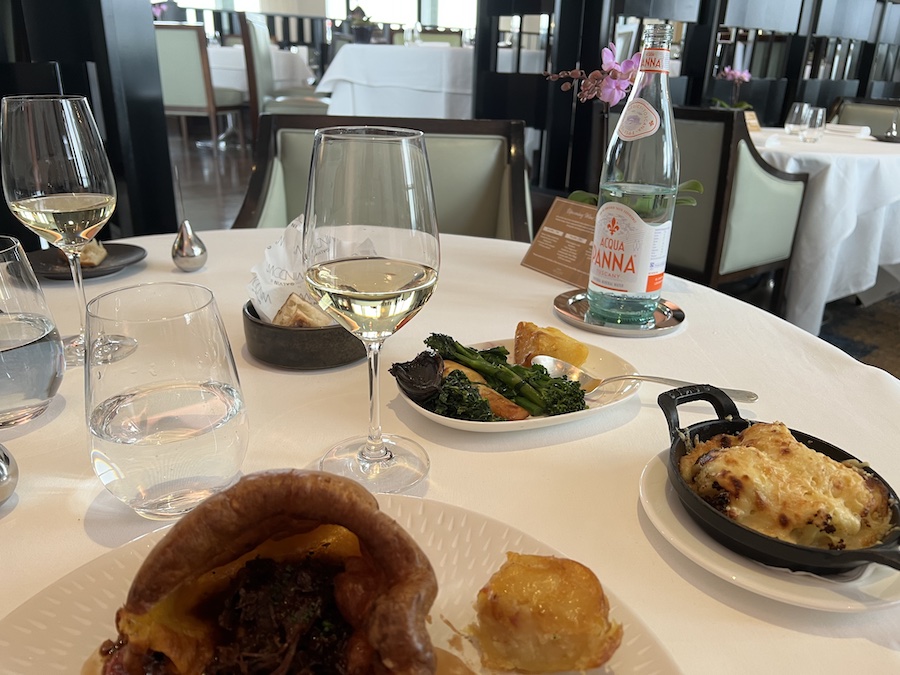 Onto the main course, the black angus roast beef was simply superb and was accompanied by traditional, seasonal vegetables. I also tried the cauliflower cheese as a side and it was very nice too. Each dish was beautifully presented and arrived bursting with flavour.
Head chef, Marc Hardiman, had managed to strike a balance of textures and aromas that made each meal delicious.
I can highly recommend the apple tarte tatin for dessert (think very posh apple pie). The pear dessert with port & hazelnut was also of the very best we have tasted in our travels.
Galvin at Windows Service
This is worth a special mention. The service at Galvin at Windows on our visit was impeccable.
Knowledgeable, friendly and attentive staff members were immediately on hand to answer any questions. This really did ensure that our dining experience was as enjoyable as they could make it.
There were some special requests regarding certain menu items and the staff offered bespoke options to suit our needs. It was no trouble at all to them. Proper service!
They seemed genuinely invested in ensuring that our experience was of a very high standard. Agnieszka deserves a special mention for her attentiveness.
There was a huge selection of wines to choose from across the globe. The sommelier was, naturally, on hand to offer expert advice on wine pairings that would complement each course.
We decided to get a trusty bottle of Sancerre (wine price: £79), and it was very tasty as expected. The waiters poured each glass for us and diligently kept them topped up when they were low.
Is Galvin at Windows Worth Going to?
The wine sold by Galvin at Windows is undoubtedly on the pricier side. The lower end of the scale is £80-£100 and on the higher end, some bottles were priced in the thousands of pounds.
However, the food is actually good value for a top-tier restaurant like this.
If you look at their midweek set menus, there is also very reasonable pricing to be had. For example, 3 courses for £45 per head during the week could hardly be considered expensive for London.
I, therefore, believe it is worth it if you are looking for a meal with an exceptional combination of superb food, service, and atmosphere. Should you want wine, it will increase the bill price significantly.
I'd say that this is an ideal place for a special occasion or a memorable night out, and I would highly recommend it to anyone looking for a truly exceptional dining experience in London. My co-diner completely agrees.
A Note on Disabled Access
Regarding wheelchair access, most of the restaurant is on one flat level and there is a ramp to access the lower part. There is a Ladies' disabled WC on the restaurant level (28th floor).
Unfortunately, the male toilets are up some stairs, so it's a trip all the way back down to the first floor for the toilet for males, I'm afraid. That said, the lift is super-fast.