Sometimes you need a helping hand in the garden to save yourself a lot of time. Enter the leaf blower, and in particular the Cobra.
How to Use the Cobra Leaf Blower
It also has vacuum functionality for those who need it, but for most people who get something like this, it's mainly about the leaves so let's look at the blowing rather than the suction aspect.
Watch the video below for how to start the leaf blower from a cold start:
Prime by pressing the prime button 5 times.
Choke in the on (up) position
Turn the on/off switch to ON
Finger on the trigger
Pull the cord
This useful garden tool blows leaves with a good deal of force. It's especially useful for blowing leaves out of garden beds and away from walls etc. There are other makes on the market and some of these are pretty expensive but it does not seem that there is an awful lot of difference between them in terms of functionality.
All in all, the BV26C seems to work pretty well – when you can start it. It takes petrol and so you'll need to buy some whenever you get low. However, the freedom to move around without a tangled wire can be very liberating.
You'll know the hassle of a mains electric-power blower if you have used one before. Sometimes there are just not long enough cables.
Initially, the unit can sometimes a bit temperamental in starting from a cold start (I used this here on a cold day) but once you get over that things work really well.
It's worth noting that the first BV26C leaf blower that was purchased had to be taken back to the shop. It just wouldn't start. The people at the garden centre from where I bought it exchanged it for a new one after acknowledging the fault.
I will update you here with any developments in using this product.
Update after 6 months
After an initial couple of uses when things went pretty well, I ordered some more of the petrol to have another session. However, things didn't go so well after that. The thing just would not start. And still won't.
I carefully followed all of the instructions but it became very frustrating. On the several attempts following this (on different days) still no joy.
As you can imagine, it's not very helpful to be spending 10 minutes pulling a ripcord trying to get the engine started. And for this reason, I've now given up on the Cobra BV26C Leaf Blower. It's just too unreliable.
Petrol-based products are of course also not very good for the environment. It's high time to ditch the fossil fuel-powered machines due to these reasons.
Update after 12 months
It was time to blow away the winter leaves again, and because there was still some petrol left to use up, I decided to give it one more chance.
Once the petrol was poured in, I started screwing the plastic petrol cap back on. Then I realised something…
The top part of the petrol cap had developed a cut which made a gap in the top of it around the edge. Here's a photo: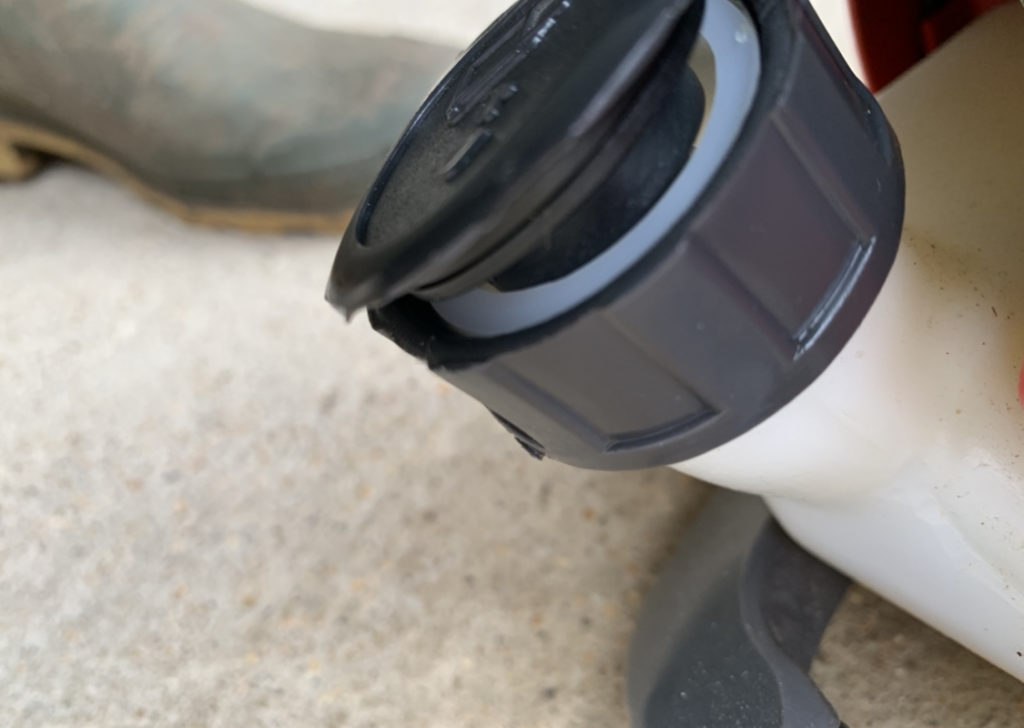 This really is completely unacceptable. The petrol cap had not been twisted roughly or too hard. It was just used to screw on and unscrew three or four times.
Superglue was then needed to correct this faulty petrol cap problem. Another negative point for the Cobra, I'm afraid.
Where can I buy a Cobra BV26C Leaf Blower?
If you fancy saving yourself a trip to the shops, you can get it delivered from online sources, of course. But you will find them in various garden centres that have a garden equipment area in them.
If you do, hopefully you don't encounter the same problems as I did. Not recommended.