The WH110 series clip-on fan is a robust-feeling piece of equipment that is designed to fulfil your cooling needs, whether at home, in the office, or on the go.
This clip-on fan is also known as the Windhole-1. A bit of a strange name. From its sleek design to its impressive performance, is this fan going to be a worthy addition to your everyday gadgets? Here we find out.
Features
Starting with the product's features, the WH110 series fan has a strong clip-on design that gives it great adaptability. It can easily be attached to many surfaces, like a desk edge, a bookshelf, or even a treadmill, and it holds on firmly.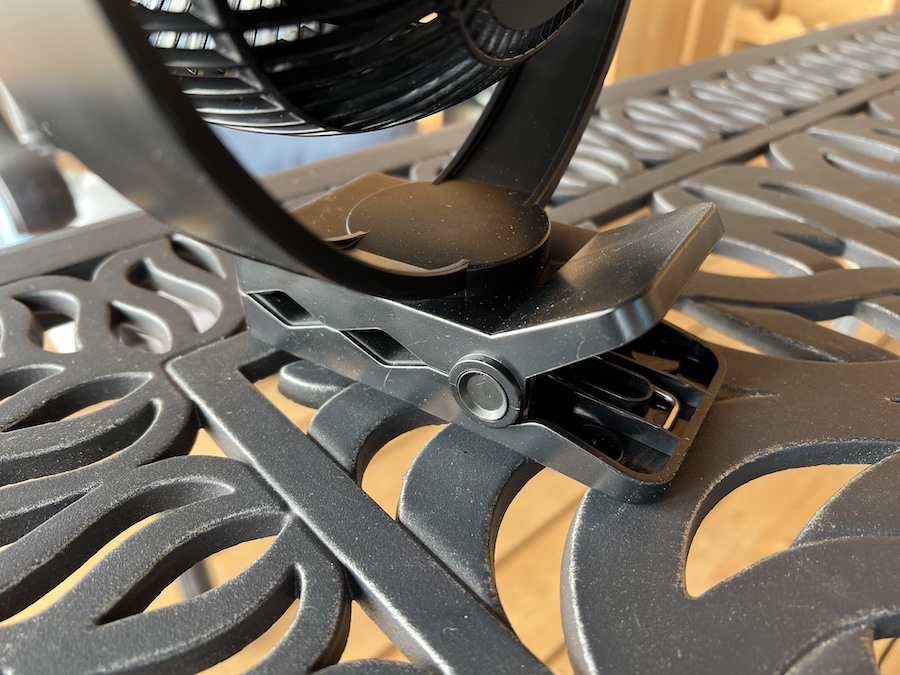 I secured the clip to a round pole and it still gripped it tight. That's exactly what is needed and I regard this as an important feature.
The fan's 360° rotation capability allows it to deliver airflow exactly where you want it, making it very user-friendly.
One of the outstanding features of the WH110 series fan is its rechargeable battery. It comes with a USB cable that allows it to be charged using any standard USB port. For a portable fan, its battery life is quite good; I typically get 4-6 hours of cooling on a single charge, depending on the speed setting.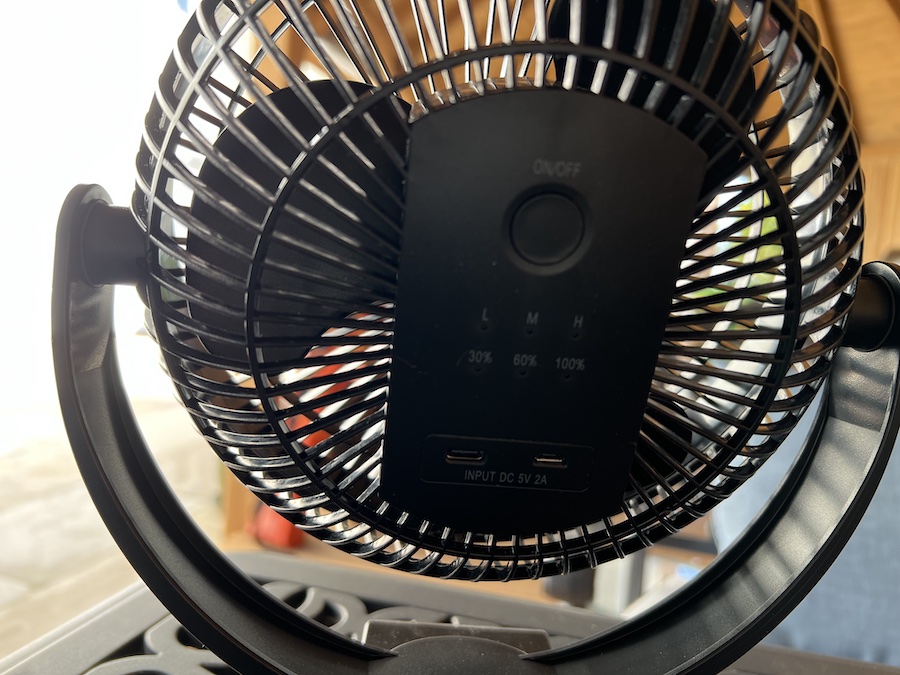 The fan has three-speed options: low, medium, and high (as seen in the photograph above). Even at its highest setting, the noise level is still acceptable, and won't interrupt your work or sleep. The LED light indicator conveniently shows you which speed is currently active.
Specifications
As for the item specifications, the WH110 fan is compact and lightweight, which makes it very portable. Its size is ideal for personal use or a small room, but it may struggle a bit in larger, open spaces.
Its dimensions are 217.5mm length x 256mm height x 80.5mm width.
The fan blades are around 15cm long, and it's powered by a lithium-ion battery. It also features a protective screen to prevent accidental contact with the spinning blades.
It comes with a 1-metre charging cable. The power rating is 10 Watts, and the Input is 2A MAX.
Charging the WH110 series fan is straightforward. Simply connect the provided USB cable to a power source, and you're good to go. A red LED light indicates that it's charging, and it turns off once the battery is full.
It usually takes about 3-4 hours to get a full charge from zero.
Cleaning the WH110 Fan
Cleaning the WH110 fan is also a breeze. You have to remember to switch off and unplug the fan before cleaning.
The front grill of the fan is detachable, allowing you to clean the blades with ease. The way to do this is to rotate the frame in a counterclockwise direction. Then, once the front frame has been removed, a soft cloth or a brush can be used to gently clean the blades and the grill.
Don't use water to clean the fan as it isn't waterproof!
Is the WH110 Fan worth it?
In conclusion, the WH110 series clip-on fan has turned out to be a reliable and handy tool that delivers a decent performance. There is always room for improvement, like extending the battery life or increasing the fan speed, but overall, I feel this is powerful and it's a good value for money.