Address: Gourniati, Kardamena 853 02, Kos, Greece
Mark Warner Lakitira is situated on the Greek island of Kos, flanked on two sides by sandy beaches and the Aegean sea and close to Kardamena.  It's very close to the mainland of Turkey (just a few kilometres).
Getting to Lakitira Resort
A charter flight takes around 4 hours from London's Heathrow Terminal 5 and lands in the comparatively tiny Kos airport.  Then, once your party is past baggage claim, a Mark Warner representative is on hand to tell you which of their coaches to board to get to Lakitira which is only 15/20 minutes away.
On the day of arrival, you check into your room/s and can look around the facilities or take a beach stroll etc before heading down to one of the three restaurants for dinner from 7pm.
Induction
These are The Terrace restaurant, Trattoria di Mauro and Taverna Platela. It's important to attend the briefing session that gets you up to speed with you the resort information and all about the week's upcoming events.
There are activities galore at the resort and you can mix and match your holiday how you wish.  With plenty of beach space available, you could opt to lie in the sun all day.  Or perhaps use one of the two pools (one family pool and one for adults only). 
Facilities Available
A note on the swimming pools – Although it can get very hot at Lakitira, the pool water is actually quite cold!  The best way to get into the water is very quickly and you might find it takes a minute to get used to it.
There are many tennis courts here.  You might not need to book them but it's best to, and the resort has racquets at reception; these are free for Mark Warner guests.
Check the notice boards in the reception area for goings-on within the resort like pilates, sailing and aerobics.
Mark Warner has great coverage for kids, and with the Kids Clubs you can let your little 'uns head off for activities including loads of water sports such as windsurfing and kayaking, as well as land-based activities like tennis.  It can get quite windy here and that makes it ideal conditions for sail-based watersports – as well as taking the sting out of the sun's intensity.
If you opt for a full board stay, it's an all-inclusive deal except for soft drinks and alcohol that you order from the restaurants/bars in the Lakitira resort. Water is provided, plus you get juice at breakfast. 
Note that beach towels are not included but can be rented for the week.  However, with the intensity of the sun at Lakitira, you may decide that beach towels are not really needed.
WiFi is available only in the hotel reception area, but not in the rooms.  There are plenty of little birds that inhabit the resort.  They can be heard continually chirping away and are also present at meal times in the restaurants.
The rooms have air conditioning that is operated when the room key is inserted.  There are some decent views to be had from the bedroom balconies.
Lakitira Resort Photos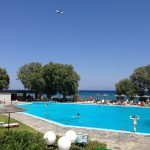 Lakitira Resort Video