The La Spaghettata restaurant in Durham is located in the heart of the city. It operates on a first-come, first-served basis for groups smaller than ten, so there's no need to book. What did we think of this Italian restaurant? Let's find out…
First Impressions
From the moment our party of three entered La Spaghetatta, we were immediately met by a 20-minute queue that extended down the staircase entrance. Not deterred by this, it was likely a good sign that this place was busy.
Eventually, we made it to the front of the queue and frequently dodged some quite merry young men who seemed to be going to the toilet (unfortunately right at the front of the line) together a lot. But then after a further 10 minutes of this, we got a table.
It has to be said that the place was packed and very raucous. It was a Saturday night, after all, so this might be expected in a student city such as Durham. In any event, we were still captivated by its vibrant atmosphere and homely decor.
Let's Eat
This is one busy place, and it was no surprise that the waiting staff was super-efficient. We got menus and our orders in quick time.
Looking over the menu (see photo, below), there were plenty of options available. It can be hard to choose when everything sounds so delicious!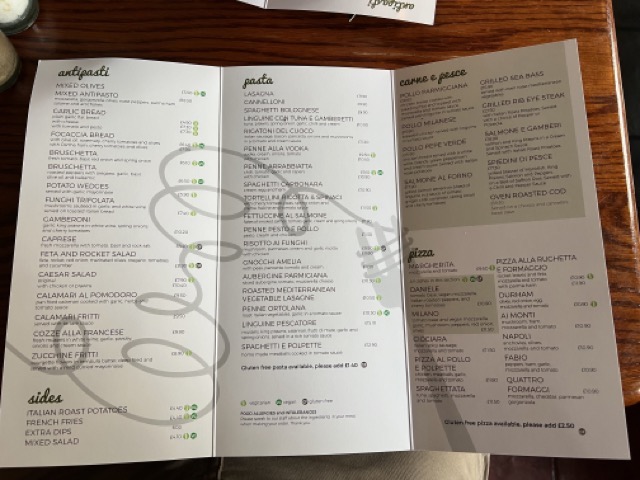 We began our culinary journey with a bottle of Sauvignon Blanc. We agreed that it was pleasantly crisp and refreshing, perfectly chilled and an excellent companion to our starter, the Bruschetta.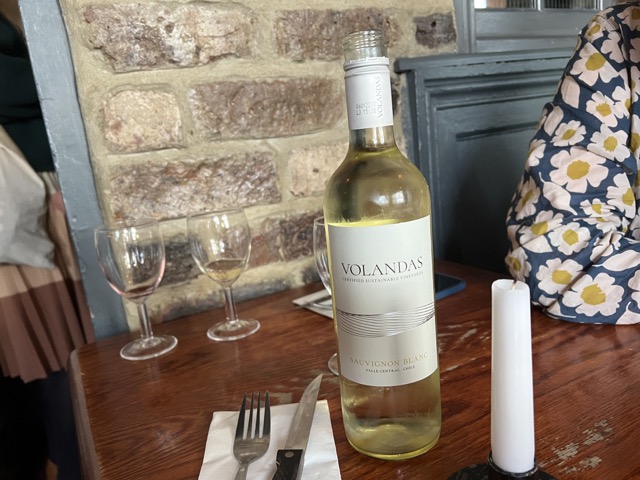 The freshness of the tomatoes, perfectly seasoned with garlic and herbs, on beautifully toasted bread truly elevated this traditional Italian dish to a new level that only proper Italian restaurants can deliver.
Mains
For the main course, two of us had the Salmon Al Forno and the other the Salmon e Gamberi. The Salmon Al Forno was baked to absolute perfection, with a moist and tender interior, the flavour enhanced by a delicate lemon and herb dressing.
Turning to the Salmon e Gamberi, with its succulent prawns and well-seasoned sauce, this was an absolute delight to the palate.
We appreciated the availability of Pepsi Light, a nod towards diners who prefer low-sugar options.
Dessert
As for afters, the Ferrero Rocher ice cream was a creamy, nutty revelation, evoking childhood memories with its rich hazelnut-cocoa blend. The Choco Fudge Cake, moist and deeply chocolaty, provided a satisfying end to our meal.
Suffice it to say that the dishwashers would have an easy job with the dessert plates!
Overall Synopsis of La Spaghetatta
Despite the high quality of the food and service, we were pleasantly surprised by the bill – £99.90 seemed like a fair price for such a delightful experience.
However, the policy of only taking bookings for large parties may deter some. Yet, the restaurant manages this well, and we did not experience an overly long wait time to get in.
All things considered, La Spaghetatta provided an outstanding dining experience that merged quality food, excellent service, and a fantastic ambiance, ensuring we'll be eager to return soon.