The Apple HomePod Mini, a compact smart speaker designed to fit into Apple's extensive ecosystem, aims to bring a seamless audio experience into the home. With its minimalistic design and smart features, it offers something for almost everyone. But is it worth the price tag? Let's delve in.
What's in the Box?
HomePod Mini
20W Power Adapter
Quick Start Guide
Setting Up the Device
Power Up: Connect the HomePod Mini to an electrical socket using the included power adapter.
Apple Device: You'll need an iPhone, iPad, or iPod Touch running the latest iOS to initiate setup.
Proximity Setup: Simply bring your Apple device near the HomePod Mini, and a setup screen will automatically appear.
Follow Instructions: The on-screen prompts will guide you through connecting to Wi-Fi and setting up Siri.
Room Assignment: You can assign the HomePod Mini to a specific room in your house via the Apple Home app.
Confirmation: A chime and a message on your Apple device will confirm successful setup.
What's It For?
The HomePod Mini serves multiple purposes:
Smart Speaker: Stream music, podcasts, and more
Home Automation: Control smart home devices via Apple's HomeKit
Personal Assistant: Utilise Siri for reminders, messages, and various queries
Features
Audio
Full-range Driver and Dual Passive Radiators: For high-quality sound
Computational Audio: Custom tuning in real-time
Stereo Pairing: Combine two HomePod Minis for a stereo experience
Siri Integration
Voice-activated assistance.
Send messages, set reminders, or make calls
HomeKit Support
Control a wide array of smart home devices
Intercom Functionality
Send voice messages to other HomePods or Apple devices in your home
Multi-User Support
Recognises voices of different family members
Music and Podcasts
Apple Music integration
Supports third-party services like Spotify via AirPlay
Who Needs One?
Apple Enthusiasts: This device is ideal for those already invested in the Apple ecosystem.
Smart Home Beginners: Perfect for those looking to start automating their homes.
Music Lovers: With its impressive sound capabilities, it caters well to those who appreciate high-quality audio in a compact form.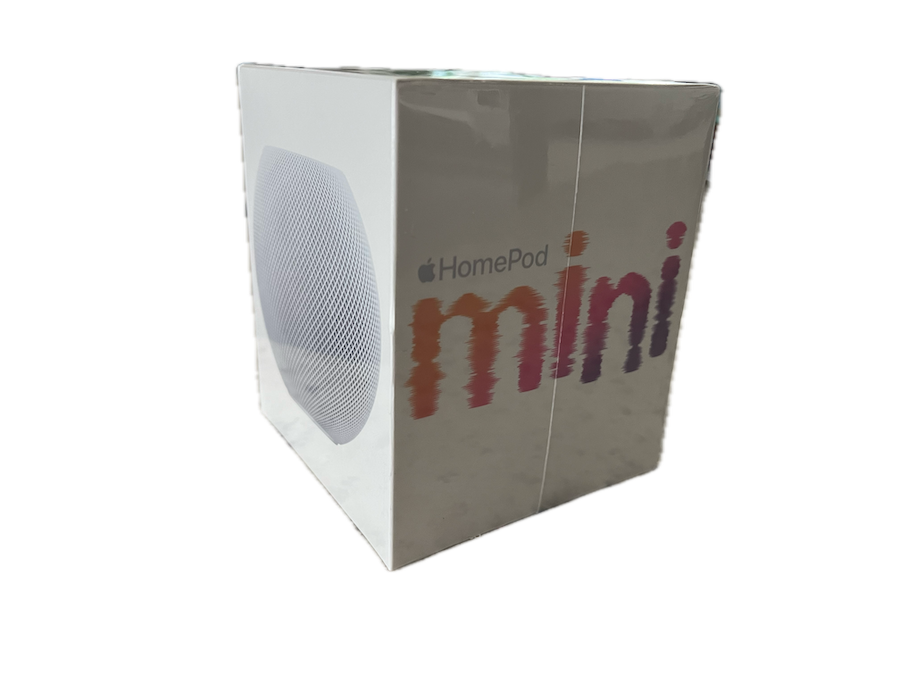 Music and Sound Quality
Given its petite size, the HomePod Mini offers a surprisingly rich and full audio experience. While it may not replace a full-fledged home theatre system, for its size, the sound is certainly commendable.
Update: One word of caution. If you want to get a HomePod Mini for music only (i.e. not for any other functions), you can't verbally tell it to play your Spotify songs. It is only compatible for that (requesting via voice commands) with Apple Music.
Spotify can be played – you just have to do that on a device such as a phone and then use AirPlay manually each time. This may sound like a small inconvenience but it's worth noting all the same.
Value for Money?
Retailing at around £99, the HomePod Mini is not the cheapest option available. However, its seamless integration with other Apple products and services, coupled with its superior sound quality, does make it a worthwhile investment for those already entrenched in the Apple ecosystem.
Buying Tip: Try other suppliers of Apple products such as Currys or ee before heading out to the Apple Store – these others might just have this at a tenner or so less than Apple's RRP.
Overall Impression
The Apple HomePod Mini may be small, but it certainly packs a punch. With its sleek design, smart features, and above-average sound quality, it's a robust entry in the realm of compact smart speakers. It's particularly advantageous for those already using Apple products, though its price point might be a hurdle for some. Nonetheless, for what it offers, many would consider it good value for money.